Our tips on cleaning and storing your chess set for keeping it in amazing condition.
When you're a chess player, your brain, your chess board, and your chess pieces are the tools of your trade. To play your best game, you know you should study and practice hard, as well as eat a healthy diet and get plenty of sleep – but do you know how to properly take care of your chess set?
This is especially important if you have an expensive chess set or have inherited an heirloom chess board and pieces. Naturally, you'll want to keep your board and chess pieces in tip-top shape so that you can pass them down to your children and grandchildren (or a chess-loving niece or nephew).
Proper care and storage of chess sets isn't just for the expensive ones, however! Even if you have relatively inexpensive chess equipment, taking care of it will ensure that that you can play without dealing with a damaged board or missing pieces. Keep reading for our top tips on keeping your chess set in amazing condition.
Cleaning Your Chess Set
As we enjoy our chess sets, they can get dirty. Dust, as well as the natural oils from our hands, are common culprits for mucking up chess pieces and boards. If your chess set came with manufacturer's instructions, your best bet is to read and follow those. Many of us don't have that luxury, as we have a treasured chess set that was passed down from a family member or one that we happened upon at a garage sale or online. Maintenance and cleaning of any nice chess set will depend on what it's made of. Let's start out with one of the most common chess set materials: wood.
While it may seem like a good idea to give your wooden chess set a buff or a shine with regular furniture polish or wax, we don't recommend this. Some products can leave marks on wooden chess boards – and those marks will be difficult to remove once they're there. Instead, take a cotton cloth and very lightly dampen it with a solution of water and a small amount of white vinegar. This kills germs and removes odors, and buffing the chess board and pieces with the cloth will be enough to make them shine like new.
The vinegar-water solution also works well for vinyl chess boards and plastic pieces. If you'd like, you can also use a cloth rinsed with a tiny amount of a mild dish detergent.
For stone chess sets (such as marble), you'll need to take a different approach. Because natural stone can be damaged if it comes in contact with anything acidic, vinegar is a bad idea for these chess sets. Simply wipe them down with a dry cloth and if a deeper cleansing is needed, use a bit of warm water. This cleaning method also works well for metal chess pieces.
Proper Storage of Your Chess Board and Pieces
Whether you only use your chess set at home or take it with you to your local park or chess club, proper storage is essential to extending its life. A good rule of thumb for wooden chess boards is to make sure they're never stored in direct sunlight, extreme temperatures, or humidity. If you're storing more than one wooden chess board, make sure to put a soft cloth in between them when you stack them to prevent scratches.
As for the pieces, the internet is full of a wide variety of storage boxes that will keep your chess pieces safe and well-organized. Some chess players opt for combination chess boards that double as storage boxes to stash their chess men when the game is through.
For vinyl chess boards, a chess bag is the ideal way to be able to store it (and your chess pieces). Compact and portable, they allow you to easily take your chess set wherever you go. One tip from experienced players: be sure to roll your vinyl chess board with the board facing outward. This way, the board will lay flat when you unfurl it. Store it rolled with the board facing inwards and you'll find that the edges want to curl up when you open the board. If you're storing multiple vinyl boards, simply lay them on top of one another and make sure they're stored flat.
Maintenance of a Giant Chess Set
Giant outdoor chess sets require somewhat different maintenance than regular chess sets. Since they're frequently stored outside, they're designed to be durable, but that doesn't mean that they couldn't use a little TLC every now and then!
Giant chess sets are great fun for people of all ages, and they can really liven up any backyard party. You may also see them set up at the beach, in the street, or in a public park or garden. Of course, this means that the board and pieces often become covered in sand, grass, and all manner of other things! To keep your outdoor chess set in good condition for years of enjoyment, there are just a few things you need to make sure to do, depending on the material your giant chess set is made from.
Plastic
Plastic pieces are incredibly durable and resistant to extreme temperatures, whether hot or cold. The most they are likely to need from you is a good cleaning every once in a while. Some plastic pieces have bottoms that come off to allow you to weigh them down with sand or water. We highly recommend doing that to prevent them from blowing away, however if you use water, you may want to change it out every now and then to prevent it from harboring mold and bacteria.
Teak
Teak wood makes beautiful giant chess pieces and chess boards that are naturally weighted, but it also requires the most maintenance. While teak is naturally more water resistant than other woods, it still requires resealing about once a year to keep it completely waterproof. Make sure you keep up with this task, or your giant chess set could become damaged!
Fiberglass
Congratulations, if you own a giant chess set made of fiberglass, you don't have to worry about maintenance! The most these sets will ever need is a simple wipe down or hose off of normal outdoor dirt to help them look their best before a big event.
Metal Topiary Sets
There is a type of giant chess set with pieces made from a metal frame that are designed to have plants grown inside of them that will eventually grow over and take the shape of the frame. Of course, these pieces require much different maintenance than all of the others! In terms of the pieces themselves, there is really not much you need to do. As long as you keep the plant inside happy and healthy, these pieces should last you well for many years to come!

When Damage Happens…
The entire point of having a chess set is to play with it – and no matter how careful you are, accidents can happen. With wooden chess pieces, these accidents often come in the form of pieces getting dropped and broken. If this happens, simply use a bit of wood glue to put the pieces back together, then let it sit overnight to dry before using it.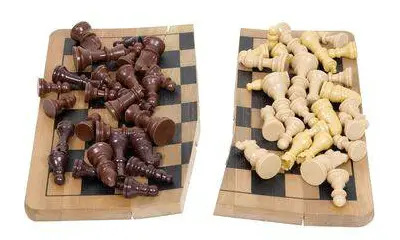 Scratches are another common occurrence. If your chess board or pieces are coated with lacquer, the good news is that you can polish out scratches with the proper ingredients. Look for an automotive scratch removal cream (many chess connoisseurs like the Meguires Scratch X™ brand) that will allow you to gently buff out the scratch in the lacquer. Stay away from harsh petroleum- or ammonia-based rubbing compounds or scratch removers, as those can further damage the lacquer. You can also use this method to treat scratches on lacquer-coated metal chess pieces.
A Lot of Care and a Little Patience
Keeping your chess set in good condition doesn't take a great deal of time. You simply have to care enough and have the patience to take a few extra moments to clean and store it properly. You'll find that the finish on most wooden sets will last forever, so they don't require a great deal of polishing. Metal chess pieces typically only need a light wiping, and plastic pieces are incredibly maintenance-free and only need to be cleaned if they're dirty or require sanitizing.
A good rule to follow is to keep your chess board and pieces free from dust and if you spill anything or get grime on it, clean it right away to avoid anything staining or drying on the set. Store everything away when you're finished to avoid losing pieces and you'll be ready for your next game. Good luck and have fun!