We have reviewed the best antique chess tables to help you find the best possible choice for your needs.
An antique chess table can add a level of distinction to your home or office that is hard to find in a newer product. Even if the table is new, but crafted in a vintage style, it can add a lot to the ambiance of the room. But, as the saying goes, they just don't make them like they used to. You can often find a better quality, more sturdy product when you buy an antique chess table than you can when you're shopping for something more modern. A vintage chess table that has been passed down through a few generations before it gets to you is more likely to hold up for several generations more than one manufactured in 2018, believe it or not.
The appeal of antique chess tables is also hard to deny. The rich wood and handcrafted feel of vintage chess tables make each one a unique work of art. It's a special thing to have a one of a kind piece crafted with such careful attention to detail in your home. There's a beauty about antique chess tables that no other style can even hope to match. Of course, beauty is in the eye of the beholder, and everyone has their own personal preferred style, but there is no denying that antique chess tables are gorgeous!
If you're ready to add an antique chess table to the decor in your home but you just don't know where to look, you've come to the right place. We've compiled a list of the best antique and vintage chess tables on the market in 2018 so that you don't have to look high and low to find a good table!
The Most Sumptuous Antique Chess Tables in 2018 (Page Summary):
The Best Antique Chess Tables in 2018:
The Genuine Italy Alabaster Chess Table is a masterpiece of antique chess table design. The four individually spun legs, along with its scalloped corners give it an undeniable antique flair. Its solid walnut construction will hold up to years and years of use, possibly even generations if it's cared for properly.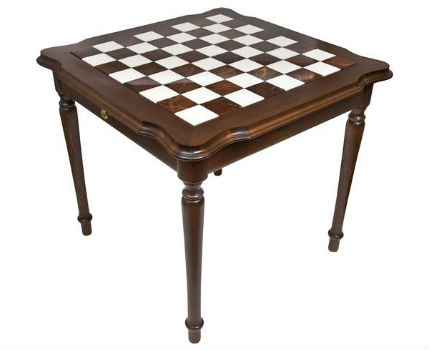 The game board is made from individually cut 3.125 inch squares of white and marbled brown alabaster that have been carefully inlaid into the wooden table surface. All together, the playing surface is 25 inches square, and it accommodates pieces with bases that are up to 2 ¾ inches across or less. The high gloss, shiny surface of this vintage alabaster chess table looks good on its own or covered with a classic set of chess pieces.
The Genuine Italy Alabaster Chess Table also features two large drawers on either side of the table that can easily accommodate sets of chess pieces, chess clocks, and other accessories. Chess pieces are not included with this chess table, so you'll have to supply your own. This is a top of the line product with a price-tag that reflects that level of quality, but remember that this is a chess table that will last and last, and it may even become an heirloom in your family. The amount of use that you'll be able to get out of it will far exceed the higher price in a few years' time.
Product Details [Read more]
Manufacturer
Imported
Made In
Italy
Table Dimensions
33″W x 33″L x 30″H
Materials
Solid Wood, Walnut, Italian Alabaster
Square Size
3 1/8″ / 3.125
Board Size
25″ x 25″
The Butler Heritage Collection Wood Pedestal Game Table is another good choice when it comes to antique chess tables. It is truly an impressive piece, at a surprisingly affordable price point for a product of its quality. This game table is one of the most stunning and luxurious products in this category available anywhere in 2018. It would be an imposing presence in any home, and you will definitely get compliments on it from your friends once they see it!
Virtually every inch of The Butler Heritage Collection Wood Pedestal Game Table is covered in some sort of decorative detail, and all of that adds up to create one extremely striking vintage chess table. It begins right at the bottom, where the feet of the table are carved into a classic clawfoot shape. The craftsmanship continues up the single turned pillar, which is adorned with ornamental carvings that give the table a sophisticated look. The icing on the cake is the tabletop itself, with its fossil stone veneer, solid wood construction, and antique brass hardware on the two storage drawers.
But this antique chess table isn't only beautiful- it's also functional. Actually, it's multi-functional. The game board is actually reversible so that you can play chess or checkers on one side, then flip it over and have a nice game of backgammon. Game pieces are not included with the purchase, but there is plenty of room to store them in the table's two spacious storage drawers.
Product Details [Read more]
Manufacturer
Butler Specialty
Made In
U.S
Table Dimensions
30″W x 30″L x 31″H
Materials
Wood, Fossil Stone
Weight
137 Lbs
Square Size
2″
Storage Drawers
2
Chess Pieces are Not Included
The Butler Heritage Collection Wood Game Table is a very unique vintage chess table, and its affordable price point makes it a great choice for buyers on a budget. Unlike most other antique chess tables, it is neither square nor round, but rather rectangular. It measures 39 inches wide, 28 inches deep, and 30 inches height off the floor. It's plenty spacious enough for two players, and you could even have two more spectators seated around the table if you like.
The design of this chess table is also top notch. It features ornately carved table legs ending in feet shaped like a dog's paw, unique wavy edges around the table, and brass handles on each of the two storage drawers. The game board is reversible, and you can have hours of fun playing chess, checkers, backgammon, or cribbage around this unique, antique chess table.
This vintage chess table offers buyers the rare chance to be able to own a multi-functional, gorgeously made antique chess table at a fraction of the price that such a product would normally cost. If you're in the market for a great deal on a great chess table, we highly recommend this one. You'll be able to get hours and hours of enjoyment out of it with all the games you can play on it, and your house guests will be sure to compliment you on this eye catching piece of furniture.
Product Details [Read more]
Manufacturer
Butler Specialty
Made In
U.S
Table Dimensions
39″W x 28″L x 30″H
Materials
Wood Solid, Dark Finishes
Square Size
2″
Weight
84 Lbs
Storage Drawers
2
Beyond Antique Chess Tables
So there you have it- our list of the top most highly recommended antique chess tables available on the 2018 market. We hope that you found something that caught your eye! If not, maybe antique chess tables just aren't quite your style. If that's the case, there's no need to give up on finding your perfect chess table, since they come in all sorts of different sizes, shapes, and styles. If you haven't found the chess table of your dreams yet and want to keep looking, check out some of our other articles about chess tables, including our main chess table page and our list of highly recommended wooden chess tables. Maybe you'll find something you like over there!
For antique chess table lovers, finding a great chess table doesn't have to be a time consuming process. You don't have to search high and low on auction websites, or drive to antique shops all over the country, because we've done all the legwork and research for you. This list of antique chess tables contains the best, most luxurious, highest quality products in this category, and you barely had to lift a finger to find them. Now, what are you waiting for? Go get your dream table!
Buy Online: Variety of Antique Chess Tables – Shipping Worldwide
The Most Sumptuous Antique Chess Tables in 2018 (Page Summary):