A few of our favorite chess sets by Italfama, one of the most prestigious chess equipment manufacturers in the world!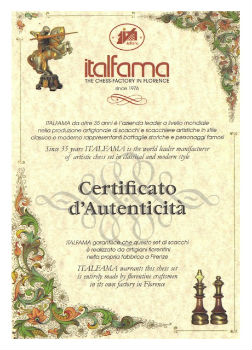 Once you've played a game on a genuine Italfama chess set, you may never want to play on anything else again! For over 4 decades, the Italfama company has been producing some of the finest chess sets at their factory in Italy, which are then sold in places all over the world. The demand for Italfama products is high in almost every chess-loving country because of the well known superior quality of their craftsmanship. When you buy a genuine Italfama chess set, you know you're getting a great product!
Unfortunately, as with any well-respected product, there can sometimes be knock offs or duplicates trying to cash in on the sterling reputation of the well-known manufacturer without putting in the same effort. It's important to buy Italfama chess sets from a reputable online chess store so that you can be sure you're getting what you paid for! To help you, we've put together a list of verified, authentic Italfama chess sets being sold by reputable vendors.
The Best Italfama Chess Sets of 2020 (Page Summary):
The Best Italfama Chess Sets of 2020:
Use Coupon Code
CHESSITETCS
for 10% Off!
This Italfama chess set is the ultimate in luxury, and one of the most opulent and extraordinary chess sets that Italfama makes, and that's saying something! Considering the impeccable quality of Italfama's other chess sets, this one being the best of the best means it's an incredibly luxurious and beautiful chess set, well suited for even the most discerning of buyers.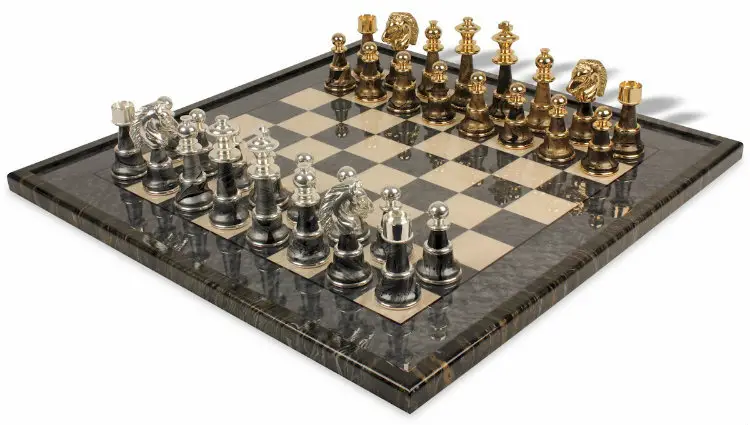 The Large Classic Staunton Variegated Gold & Silver Chess Set features elegant gold and silver plated chess pieces and a marbled wood chessboard with an exquisite, shiny finish. We think this set easily qualifies as one of the most beautiful chess sets in the world!
The chess pieces in this Italfama chess set are made from gold and silver plated brass with impressive, hand-painted wood detailing. They have an undeniable presence in any room, with the King pieces standing tall at 5 inches. Each piece also has a great weight in the hand, making for a highly satisfactory playing experience.


You can choose to purchase just the chess pieces alone, but we highly recommend that you bundle it with the matching Italfama chess board. Not only does it give you a better value for the money, but the chessboard goes so well with these pieces, that it would be a shame to put them on anything else!
The Variegated Wood Framed Chessboard is a perfect match for these gorgeous pieces. It features the same marbled look that is featured on the wood detailing of the chess pieces, and provides plenty of room for these larger than average pieces to move, with squares that are 2.375 inches and a total board size of 24 inches square. The board and pieces of this set are designed to go together perfectly, with the board providing the perfect stage for the pieces to shine. The two components of this high-end Italfama chess set are truly a match made in heaven!
10% Coupon Code:
CHESSITETCS
This chess set is one of the most popular products that Italfama manufactures. Once again, that's saying something! It is sold in many reputable chess shops, both online and in brick and mortar shops, and it always gets glowing reviews from its new owners.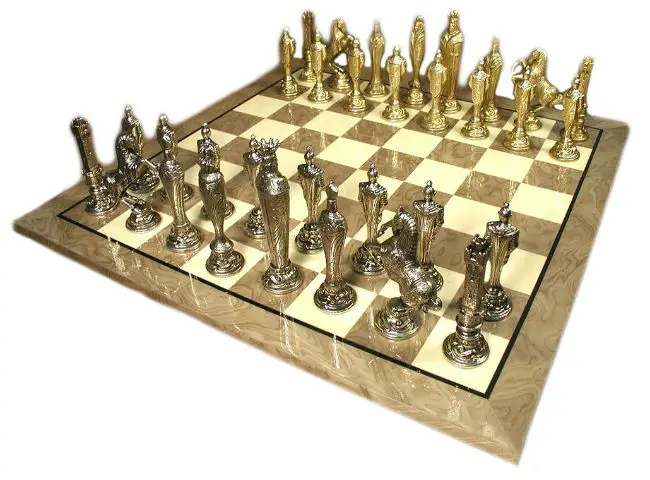 The Large Metal Renaissance Chess Set on Grey Gloss Board features huge chess pieces that are much bigger and taller than a regular set of chess pieces. The King pieces stand a massive 5 and a half inches tall! As you might expect, the larger size of these pieces also contributes to a larger overall weight, and the set of Italfama chess pieces alone, without the board, weigh 14.5 pounds. The chessboard adds another 8 pounds of weight, so this is definitely not a portable chess set you'd like to take with you on a vacation or business trip. It does, however, attract a lot of attention in any space and will quickly become a conversation piece in your home or office.


To give you a bit more detail about the chess pieces themselves, they are made from solid metal with beautiful gold and silver finishes. Their shapes are modeled off of European monarchs and other famous figures from the Renaissance era, which was the period of time between the middle ages and the modern era, generally cited as having run from the 12th century to the 17th century. That's a large chunk of history to have at your fingertips!
The 22 inch Grey Briar veneer chessboard is the perfect complement to this stunning set of chess pieces. It blends beautifully without competing for attention, and adds a lot to the overall effect of the set. The 2-inch squares provide plenty of room for the tall, slender pieces to move comfortably, and the incredibly glossy finish perfectly complements the metallic pieces.
If you're looking for an impressive Italfama chess set that showcases the natural beauty of wood, then this is the set for you! This set is made from some of the finest woods available, including Mahogany, Walnut, Maple, and Briarwood.
The Florentine Di Scacchi Luxury Home Set is a nice break from the shiny metallic sets we're used to seeing from Italfama. This set does still feature metal details, but they're less pronounced than in other sets, and only serve to accent the beauty of the natural wood used in the rest of the set.
The chess pieces are made from light and dark turned wood with gold and silver accents on the tops and bottoms. Each piece has a protective coating that helps to prevent the pieces tarnishing and ensures that they'll last in good condition for years and years to come. They also have a felt base pad that keeps the pieces from scratching the board during play. These features protect your investment and make this Italfama chess set an heirloom piece that you'll be proud to pass down to your children and grandchildren.
The chess board in this set is made from a perfect blend of several different woods that come together to form all of its intricate inlaid decorations. The playing surface also lifts up to reveal a storage area where you can put all the chess pieces while you're not using them. The storage compartment is also lockable, so you can pack the set up easily if you want to travel with it, and you won't need to worry about it coming open during transit and spilling your chessmen everywhere!
The Florentine Di Scacchi Luxury Home Set is a great set for anyone who is looking for a beautiful wooden chess set that's been built to last. It's also one of the more affordable Italfama chess sets out there, so it's a great choice for your first Italfama product.
What Makes an Italfama Chess Set Different?
Italfama is a name that's known all over the world by people who are interested in luxury chess equipment, but it wasn't always that way. When the company first got its start back in 1976, it was little more than a hobby for the founder, Aldo Marsili.
Aldo had learned to play chess as a young man and also enjoyed making things with his hands. He realized the business potential of these two things when he made his first chess set, which was quickly purchased by one of his friends. His second handmade chess set was snapped up just as quickly, and ever since then, they've just been flying off the shelves!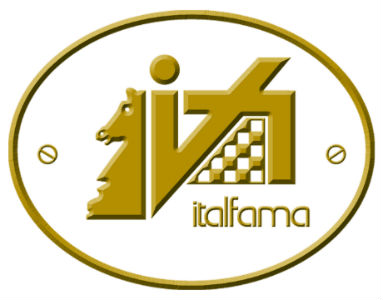 As the product lines grew, so did Italfama's popularity, and before long it was an internationally renowned company. What's amazing is that during all that time and after all that growth, the product quality is still just as high as it was in those early days when Aldo handmade each set himself.
The Italfama Reputation
The high standards of quality have continued at Italfama even 40+ years later in large part due to Aldo's continued oversight. After building an immensely successful luxury chess equipment brand from the ground up, he is careful to maintain the sterling reputation he's earned with his customers!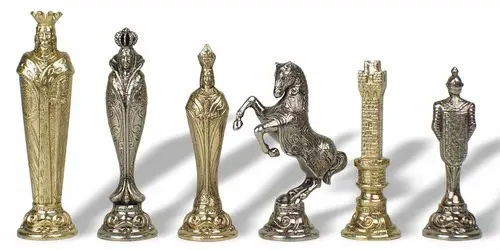 Aldo still oversees the entire production process at Italfama, from wax casting, to hand carving, to polishing and painting. His watchful eye is over the whole process, from start to finish, making sure every piece meets his stringent quality standards. This way he can be sure that each product will live up to the customer's expectations, and his business's excellent reputation will continue.
Products and Prices
Italfama has created a wide range of products in the decades it's been in business. Aldo himself came up with many ideas, and when his brother Paolo joined the company, the innovation was doubled. Now that his sons have joined the family business, more and more new ideas are being added every day.
Because of this, Italfama offers something for almost every style and taste. They have chess sets made from metal, wood, resin, pewter, leather, and mixed materials. You can find sets in a traditional style, a more modern one, and in a variety of themes. They also have products in a range of prices, though the level of quality necessitates a certain base price, and an Italfama chess set is never going to be considered a "budget buy." Still, if you can afford the price, these sets are great investments and offer a ton of bang for your buck because of how long they last. An Italfama chess set will outlast you!
Our Final Thoughts on Italfama
Italfama is a famous chess brand that has earned every bit of its international reputation. Many chess players hope to one day own an Italfama set, and with good reason. They offer products that are unparalleled in terms of beauty, craftsmanship, and durability. We highly recommend their sets to any chess lover!
Exclusive Coupon Codes for Our Readers:
The Best Italfama Chess Sets of 2020 (Page Summary):