These outdoor chess sets are lightweight, waterproof and resistant to any weather – Choose yours with confidence.
Giant chess sets are quickly gaining in popularity all across the globe. They are often used in public places like parks and gardens as well as at private events such as weddings or family get togethers. They offer a fun new twist on an old classic and turn a traditionally cerebral game into something more physical as players or teams of players move about the chess board, using their whole bodies to push the pieces into place. This new aspect of physicality makes large chess sets a great crowd-pleaser that lets more people feel involved in the chess match. Even young children who haven't learned the rules of chess can participate by moving their team's pieces where they're told to go.
If you're in the market for a giant outdoor chess set for your next large event or backyard barbeque, there are a few things you'll want to pay attention to before deciding on one.
The Giant Chess Set Size
As you might imagine, size is one of the most distinctive aspects of any giant chess set. However, "giant" is a wide term, and your idea of giant may not match the manufacturer's idea, so make sure to check the dimensions on any giant chess set you're considering to ensure that it will meet your needs and fit your space.
The Giant Chess Set Materials
Because these are frequently used as outdoor chess sets, you'll want to pay closer attention to the materials your set is made from. It has to not only look good, but also stand up to hard use and weather.
Our Recommended Giant Chess Sets
If choosing a regular chess set from the thousands that are out there is a headache, choosing a life size chess set must be a giant headache! But not for you, because you're lucky enough to have found our curated list of The Best Giant Chess Sets in 2018. We've rounded up the most high quality outdoor chess sets and reviewed them for you so you'll be able to easily choose the one that best suits your needs. Without further ado, let's get to the reviews!
The Best Giant Chess Sets:
This set is a true giant chess set that will make quite an impression in any garden or backyard. The Rolly Toys outdoor chess set pieces are beautifully styled after the traditional Staunton pattern, only they've been enlarged to stand as tall as 25 inches!
The Rolly Toys Outdoor Pieces are made of a durable, all weather polyurethane plastic that is kid proof, water proof, and resistant all types of weather. They are easy to move around by simply grabbing the convenient, knob-style top included on each piece.
If you live in an area that's prone to windy weather, or you simply want the pieces to be a bit heavier, you can add weight to them easily by separating the base of each piece and adding sand or water until you achieve the desired weight. Replacement pieces are also available if one of yours ever becomes lost or damaged.
A 9 foot square nylon or plastic chess mat is available to be purchased with this lawn chess set for an additional fee. The nylon mat is a durable fabric square that can be staked into the ground at the corners, while the plastic board is composed of a series of black and white mats that snap together to form the playing surface.
Those aren't your only options – many people choose to make their own garden chess boards for use with these pieces. This can be accomplished by painting squares, putting don a concrete pad, laying tile, or even using alternating materials like grass and concrete to create a striking backyard chess board. Squares may be any size from 12 to 18 inches, though the manufacturer recommends 14 inch squares as the ideal.
One of the best selling giant chess sets on the market, this outdoor chess set from Chess House is the ultimate addition to any backyard. The bestselling version is the 25" giant set, although a 16" version and a 12" version are also available. The smaller sets would be best for people who want to use the large chess set both indoors and outdoors, or for small children, but for most applications we recommend the full size 25" version. Bigger is definitely better when it comes to giant chess!
The outdoor chess set comes with your choice of either a nylon or plastic mat that serves as the chessboard and playing surface during the game. We highly recommend going with the plastic version, since it is much more durable than its nylon counterpart. The plastic mat consists of a series of interlocking black and white squares, whereas the nylon version is just a simple patterned cloth that you lay on the ground. So, the plastic version does take a little bit longer to set up, but it also provides a much better gameplay experience and looks way more impressive!
The plastic mat is a bit more expensive upfront than the nylon mat, so if you're on a tight budget, you may be tempted to just get the cheaper one, but since the plastic version is so much more durable, you may end up replacing the nylon mat several times before the plastic one would need to be replaced. The hassle and expense of replacement quickly eats up and savings you had in the beginning.
Speaking of replacements, when you buy This 25″ Giant Chess Set you can opt in to a 3 year part replacement plan which will cover you if any of your giant chess pieces become lost or damaged. We highly recommend it and see it as a must for this type of outdoor chess set. You'd be surprised how easily these giant chess pieces can catch a breeze and be blown away if you forget to fill them with water or sand to add extra weight. Both your initial purchase and any replacement parts you need will be eligible for free shipping anywhere in the US.
When it comes to giant outdoor chess sets, there's not a lot of variety. They all come in largely the same design, with the same colors, and roughly the same sizes. The unique thing about The USCF 25" Giant Chess Set, though, is that it comes as a true chess set. Both the pieces and the board are included, so you don't need to worry about adding extra products onto your order, comparing total prices, and making sure you're getting the right combination of things. With this giant chess set, everything is included for you in one convenient package. When you order this outdoor set, you get the chess pieces, a 9'x9' nylon chessboard mat, and a convenient storage bag to keep everything protected and in one place.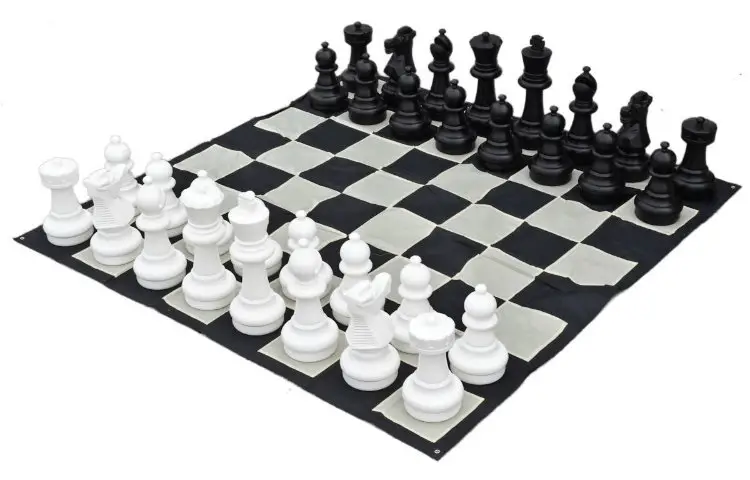 This outdoor chess set also comes in a variety of sizes – 25", 16" and 12" which all include an appropriately sized nylon mat. It's important to note, though, that while the 25" version can be weighted by adding sand or water to the base of the pieces, the 16" and 12" versions do not have this feature. Because of this, they may be better suited to indoor only use.
All of the large chess sets are highly durable and weather resistant. They are manufactured by the US Chess Federation, so you know they have to be good! Your next backyard barbecue will be a hit with this giant chess set that's tons of fun for adults and kids alike.
Making the "Big" Choice
Things you must take into account when choosing your giant chess set so that you don't end up with a giant case of buyer's remorse!
Not all outdoor chess sets are created equally. Not all of them are even created equally giant! Some sets that are marketed as garden chess set or outdoor chess set have pieces that can't even stand up to the weather. Unless you want to be running back and forth, lugging giant chess pieces indoors every time it starts to sprinkle, you need to pay attention to a few key details before purchasing your giant outdoor chess set to make sure you're getting one that fits your needs.
How Giant is Giant?
The first thing to consider is the actual size of the outdoor chess set you're considering. Photos can be misleading at times, so be sure to always check the exact measurements of the chessboard and pieces. If that information is not available in the listing – we recommend that you pass on that giant chess set, don't risk the potential disappointment. If you're looking for a portable set that you can take with you camping, you won't want pieces so big that they barely fit into your car. On the other hand, if you're looking for a show-stopping set to be the centerpiece of your backyard, you don't want to receive a dinky set with pieces that barely come up to your knee. All these problems can be avoided by checking and double checking the dimensions of the set.
The Style
If you don't want your garden chess set to be confused with an avant garde installation of modern art, you may want to stick with a giant outdoor chess set that follows a more traditional style. However, if you like the idea of having a big chess set that doubles as an art piece, or a set that's not necessarily immediately recognizable as a chess set, something with a more modern style might be appropriate for you.
The Materials
If you intend to leave your giant chess set outside most or all of the time, it's absolutely essential that you make sure every piece is made of a durable, weather resistant material. It must be waterproof, resistant to heat and cold, and also not vulnerable to sun damage. If you only bring your oversized chess set outside sometimes and quickly put it away again, or if you'll primarily be using it indoors, you have more leeway.
Buy Online: The Best & Most Durable Giant Chess Sets – Shipping Worldwide