Immerse yourself in the exciting world of ancient Greek gods and warriors with a beautiful, imagination-inspiring Greek mythology chess set.
The myths and history of ancient Greece have fascinated people all over the globe for thousands of years. From the Olympian gods, like Zeus, Hades, and Aphrodite, to mortal warriors like Jason and Odysseus, the world of ancient Greece is rich with tales of adventure and excitement.
Imagine channeling the power of some of these legendary battles into your favorite way to have a (friendly!) competition at home – with a beautiful Greek mythology chess set? Can you picture defending your queen piece against your opponent – as though you were Paris of Troy, rallying his troops to protect his prized Helen from the Spartans?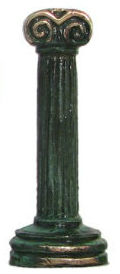 Or, perhaps, if you are of Greek ancestry or have visited the country and fallen in love with it, a Greek mythology chess set may invoke a feeling of home, adventure, or connection to your ancestors.
Or perhaps you simply find history and mythology interesting and also happen to love unique and beautiful chess sets. A Greek gods chess set could be the perfect addition to your collection.
We've rounded up the highest-quality and most visually striking Greek chess sets, to help you decide which style set and which facets of Greek history and mythology you want to carry with you on your own personal Odysseys through the game of chess!
The Best Chess Greek Sets of 2020 (Page Summary):
The Best Chess Greek Sets of 2020: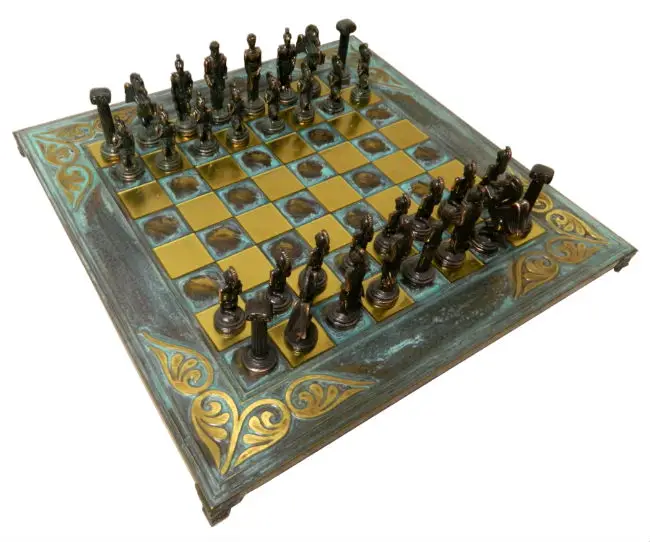 This elegantly detailed chess set evokes a sense of old-world intrigue from the very first glace at the board. This chess set gets its antique look from the oxidized metal board and matte colors of board and pieces alike.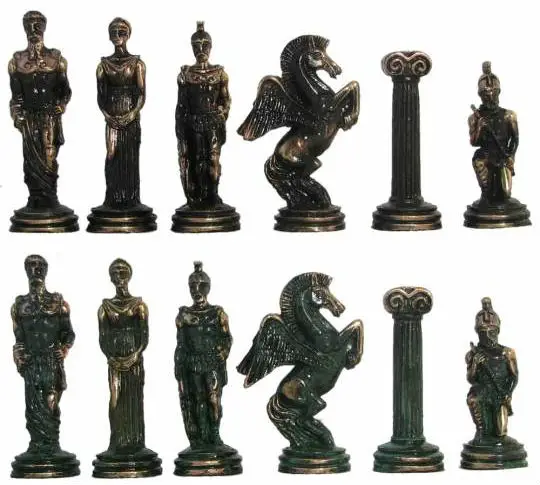 The metal and pewter pieces of The Agamemnon Chess Set are detailed figures modeled off of Greek gods and warriors. As a charming touch, the knights resemble Pegasus, the immortal winged horse of Hercules, and the rooks are ionic columns.
Of course, the king piece is Agamemnon himself. The brother of the Spartan king Menelaus, Agamemnon was commander of the Greek armies in the Trojan War. Despite a legendary victory in the war, Agamemnon was doomed to die when he returned home to Sparta, as his wife's lover, Aegisthus, brought him to an untimely end.
The unique luxury look of this set will catch any eye, and its high quality is apparent. The Agamemnon chess set is actually priced quite reasonably, considering the level of detail that went into this stately set's design and workmanship. In yet another fitting touch, the set and pieces were actually made in Greece.
This chess board measures 18" x 18". Each square is 1.5". The board itself is 1" thick, and stands on elegant risers, making this set truly display-worthy. The king is 3 ¾ " tall, and weighs in at a solid 6.1 oz.
It is possible to buy the board and pieces separately if you desire, but the price is better if you buy them as a full set.
Use Coupon Code
CHESSITETCS
for 10% Off!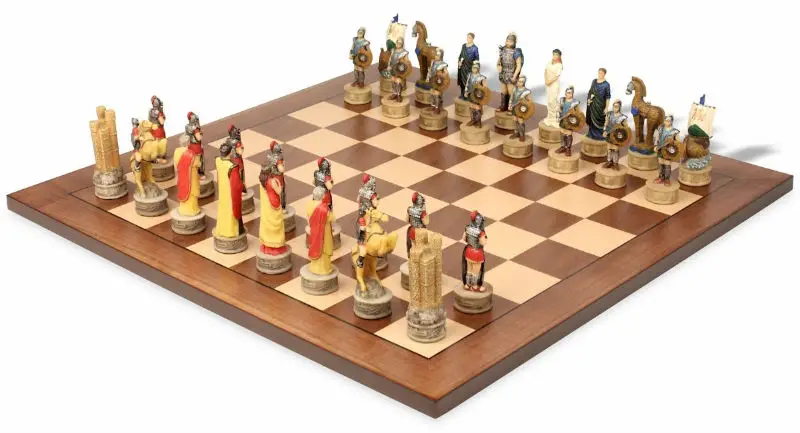 The Battle of Troy is the climax of one of Greek mythology's best-loved and best-known tales.
Aphrodite, the goddess of love, promised Paris of Troy the most beautiful woman in the world – Helen, the queen of Sparta – who was already married to King Menelaus. With a little help from Aphrodite's son, Eros, Helen fell in love with Paris and ran away with him to Troy. Henceforth, she became known as Helen of Troy.
Theft of the Spartan queen meant war. The Trojan war spanned ten years. It was finally won by the Greeks through a famous act of trickery. They pretended to sail away in retreat, leaving behind a large wooden horse. The Trojans mistook the horse for a parting gift and brought it into the city for a victory celebration.
But as it turned out, the horse was full of Greek soldiers. They snuck out that night, set fire to the city, and opened the gates for the soldiers who had "retreated" to come back in and finish the Trojan War once and for all!
The pieces are truly the "main show" in This Battle of Troy Chess Set. Made of polystone (a very durable and strong stone-like material), each piece is extremely detailed and beautifully handpainted.
Of course, the Greek chess set pieces in this set include the main characters of the Battle of Troy, including Helen, Paris, and King Menelaus. The Spartan chess pieces also feature attack-ready soldier pawns, ship rooks, and "wooden" horse knights. The Trojan chess pieces feature pawns with shields in hand and fortified-building rooks.
The chess board is made of beautiful walnut and maple veneer and wood, finished with a soft sheen satin polyurethane. The chess board is 17" x 17" with 1.75" squares. The king pieces are 3.25" tall with a felt-bottomed base of 1.125".
An added value to this set (which has a very reasonable price tag, to begin with!) is that it comes with a storage box, with a formed tray for safely storing the individual pieces.
10% Coupon Code:
CHESSITETCS
Use Coupon Code
CHESSITETCS
for 10% Off!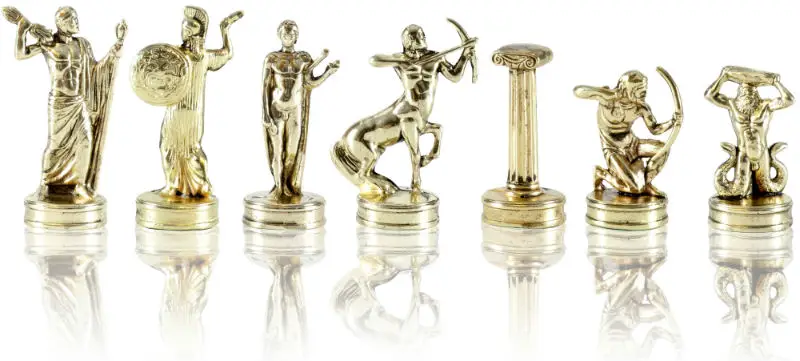 These beautiful Greek chess pieces are sold without a board (though there is the option to bundle them with a board and storage case on the website), but they still made our list of best Greek chess sets for their quality and beauty. Any chess board will look more luxurious with These Shiny Brass and Nickel Chess Pieces upon it!
The pieces are hand-cast in solid zinc, plated with brass or nickel, then lacquered to keep their finish always gleaming and untarnished.
A replacement card is sent with this set, in the event that you ever may need to replace a piece.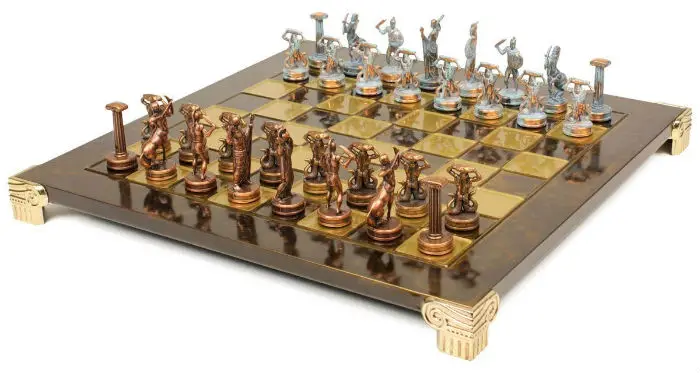 Zeus, the king of the Greek gods, is the king piece in this set. Athena, the goddess of wisdom and war, is the queen,
The bishops are Zeus's son, Ares. Ares is the god of the violent and physical aspects of war. His presence provides contrast against Athena's more strategic representation of war.
The knights in this set are the chaotic and barbaric half-human, half-horse creatures known as centaurs, each with bow and arrow ready to strike. The rooks are ionic Greek columns.
And the pawns are the Gigantes – a tribe of earth-bound giants that Zeus ultimately defeated – solidifying his position as king of the gods. The Giants feature snake-like legs and hold slabs of rock above their heads. As the myth goes, after Zeus's win, the Gigantes were trapped inside the earth, and their anger is the reason why we have volcanoes!
The kings in this set are 2.25" tall with a ⅞ " base.
10% Coupon Code:
CHESSITETCS
Choosing the best Greek chess set
The myths of the ancient Grecian empire and the gods, goddesses, mythical creatures, and mortal warriors who lived there continue to endure and inspire the imaginations of many.
So, now the question is: which Greek Chess Set is the best one for you? If style is your top priority, our best Greek chess set picks each offer something special and unique. Or are you drawn to the story behind the Greek chess pieces above all else? Ancient Greece certainly has no shortage of stories to be inspired by, and all of these Greek chess sets beautifully translate these tales into a chess game.
To make a grand statement, it's hard to top The 18″ Agamemnon Greek Chess Set. The oxidized metal chess board evokes a feeling of luxury, intrigue, and timeless quality. This chess board is gorgeous enough to use with any other beautiful set of chess pieces you may have, though it would be hard to find a more fitting set than the Greek mythology chess pieces based on Agamemnon and his adventures. The pieces in this gorgeous Greek chess set are exceptionally detailed, and yet they are far more regal than flashy. Is the story that piques your interest most is that of the great warrior Agememnon? Despite leading his army to victory on the Trojan War battlefield, Agamemnon suffered a tragic end at the hands of his wife's lover. Will it be your King Agamemnon, or your opponent's, who is brought to a dramatic undoing on the chess board?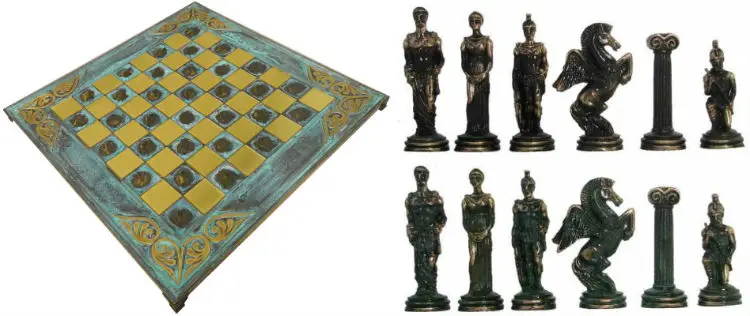 If your style preference lies more in classic wooden chess boards and full-color handpainted figurine-style chess pieces, The Battle of Troy Greek Chess Set may be your perfect fit. It's nearly impossible to play a game of chess with this Greek mythology chess set without your imagination taking flight. Considering that, this Battle of Troy chess set may be the best fit if you will be playing the game with a child. Not only is the game of chess extra fun with a unique set, but it makes for a great opportunity for your child to learn and visualize the ancient tale of the Battle of Troy! With this exceptionally detailed Greek mythology chess set, you can re-enact the timeless story with an accurate lineup of characters, weapons, and defenses.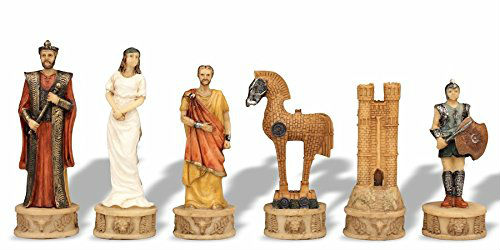 If the chess board itself is less important to you, and the unique Greek chess pieces are what really grab your interest, The Giants Battle Greek Gods Chess Set by Manopoulos is a beautiful option. The gleaming metal pieces are specially lacquered to never lose their shine – just as the tales of the legendary Greek gods and creatures they represent never cease to fascinate each new generation. If the tales of the Greek gods and other mythical creatures are your favorites, this set of Greek god chess pieces is bound to spark your imagination. This set of Greek chess pieces is inspired specifically by the story of Zeus's victory over the Gigantes and dominion over Olympus. However, the timeless, well-known characters in this Greek gods chess set can take on a life of their own, inspired by any number of combinations of Greek myths!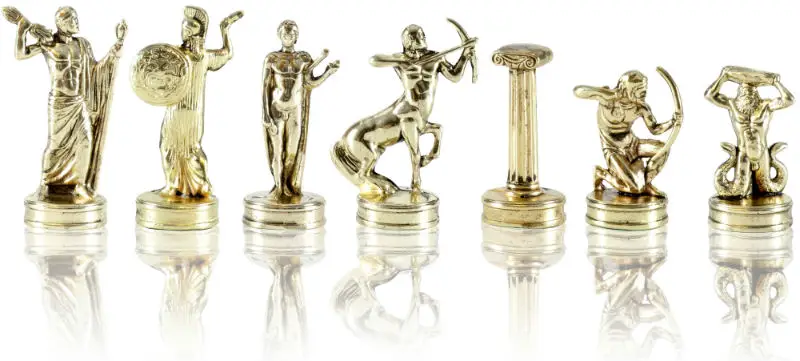 If you have a love of beautifully crafted themed chess sets, and an affinity for the lore of ancient Greece, one of these Greek mythology chess sets is bound to be perfect for you. And as you can see, no matter which chess board style you prefer, absolutely any of these Greek chess sets would make a beautiful addition to your home.
Exclusive Coupon Codes for Our Readers:
The Best Chess Greek Sets of 2020 (Page Summary):