If you're looking for a weighty, substantial chess set that will stand the test of time, these metal & pewter chess sets may be the perfect choice.
There is something about metal or pewter chess sets that sets them apart from their wooden, glass, or plastic counterparts. Metal chess sets seem somehow more solid, more impressive, and they are guaranteed to make an impression. There are many different kinds of metal that these sets can be made out of, such as:
Pewter
Pewter is a classic choice of metal for chess sets, and its use dates back to the Civil War era and before. Pewter chess set pieces have a good weight to them and usually do not require additional weighting to give them a pleasant feel in the hand. Pewter is often paired with brass to make a full set – with the pewter pieces representing Black's army and the brass finished chess set pieces fighting for White.
Bronze
Bronze is another popular material used to make metal chess sets. This metal gives the pieces a luxurious, shiny finish that makes each piece look like a sculpted statue. In fact, some Bronze chess sets even forgo the standard Staunton pattern, instead favoring pieces that are modelled after people.
Gold and Silver
Gold and silver are typically used as a plating on chess pieces formed of a less expensive and more durable metal. Solid gold chess sets do exist, though they're more often used as a decorative object and a status symbol than an actual playable set. Gold and silver plated chess sets can offer a touch of luxury to your game while still holding up to the rigors of frequent use.
Those are just some of the materials that may be used to form a nice metal chess set. Without any further ado, let's introduce our top picks for the best metal and pewter chess sets in 2018:
The Fanciest Metal & Pewter Chess Sets on 2018 (Page Summary):
The Best Metal & Pewter Chess Sets in 2018:
When they described this set as "large," they were not joking. This metal chess set features gigantic chess pieces that tower above the board. The effect of seeing them all lined up around the 5 and a half inch tall King pieces is nothing short of impressive.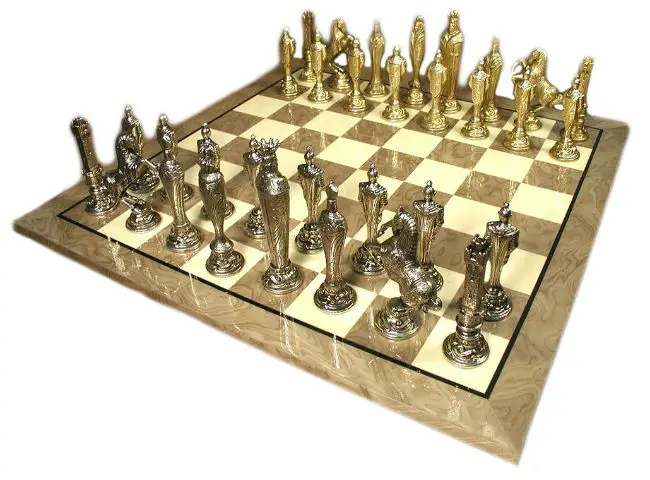 The chess pieces included in this heavy metal chess set are modelled after European monarchs from the 12th to 17th centuries. So, those giant King pieces are actually modeled after real Kings! All of the pieces represent an aspect of the Renaissance culture that pervaded Europe between the middle ages and modern history. All of the pieces are tall and thin, stretching upward toward the sky, seemingly in an attempt to intimidate the armies of the opposing side. Just looking at these pieces arranged on the battlefield, one can feel the tension between the two sides, and that just might compel you to sit down for a quick game or two!
The board that these larger than life pieces have chosen as their battlefield is a grey briarwood chessboard with a smooth, glossy finish. The pale grey of the board's darker squares contrasts nicely with the resplendent gold and silver finishes of the chessmen above. Its modern style will fit in with any type of decor, and it doesn't compete for attention with the chess pieces which are the main focus of The Large Metal Renaissance Chess Set. The two components complement each other, with neither trying to steal the show from the other.
Product Details [Read more]
Manufacturer
Italfama
Including
Board & Pieces
Square Size
2″
Board Size
22″ x 22″
King Height
5.5″
This shiny brass chess set will be sure to turn some heads in any home or office. It is truly a sight to behold! We recommend leaving this chess board out on display in an office or living room or anywhere else where the gold & silver plated chess set will be able to get the attention it deserves!
The chess pieces in this gold and silver chess set are the star of the show, no doubt about it. They are brass pieces handcrafted by Italian artisans, plated with silver and gold, and they also include a bit of wood detailing on each piece. The marriage of the wood and metal pieces on these chessmen offers the best of both materials. In fact, more than that, the whole effect is greater than the sum of its parts. These chessmen definitely convey a sense of opulence to anyone who sees them. A 5 inch tall King piece towers over the rest, clothed in 24 karat gold and looking truly regal.
The chess board that serves as the stage for these magnificent chess pieces is not metal but wood which has been carefully styled to give the illusion of marble. The large, 2.375 inch squares give the pieces plenty of room to spread out on the board. Brass accents on the board's corners give The Italian Gold & Silver Plated Chess Set a cohesive look.
There is also the option to upgrade to a more high-end chess board for an additional cost. The upgraded board is made from inlaid Briarwood with a complimentary raised frame and accented with gold and silver all over.
Product Details [Read more]
Manufacturer
Cambor Games
Including
Board & Pieces
Square Size
2.375″
King Height
5″
King Base
1.75″
This is a highly unique metal chess set that has been gaining popularity over the years. With the rise in popularity of the TV show Game of Thrones, more and more people have become interested in dragons, and this metal chess set caters to that interest. One look at The 3D Dragon Chess Set and you'll be able to see why it's quickly becoming a favorite in the chess community.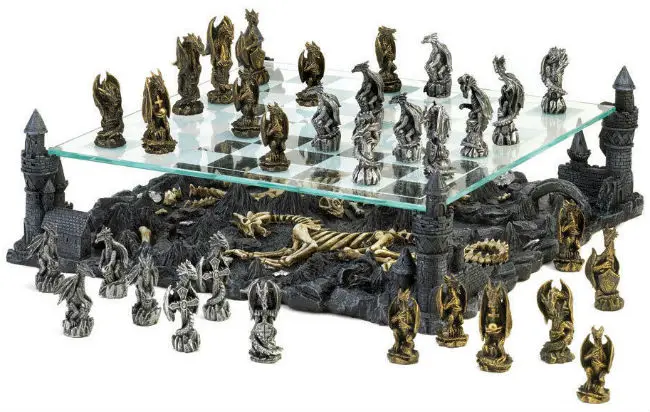 The chessmen in this set are not modelled after humans or horses or any other familiar shape – they're all dragons, of course! Each piece is extremely detailed with different poses, postures, and expressions for each dragon. Now that's impressive! The pieces are made of solid metal with grey and gold finishes. Any chess player with a good imagination will have a blast playing games with these scheming mythical creatures under their command. Rather than capturing opponent's pieces, they may prefer to fry them to a crisp with their fiery dragon breath! Every match played with this metal dragon set tells a story, that's for sure.
The dragons are supported by a floating glass chessboard that's suspended above the charred remains of an ancient battlefield where dragon bones still lie. The turrets of blackened castles form the foundation for the dragon battles above. The board is one of the coolest features of this metal chess set, and it is definitely eye catching, to say the least.
This 3D Metal Chess Set is a must have piece for collectors and dragon lovers alike. It makes a great everyday chess set, as well as a cool decoration for your room whenever it's not in use. You're guaranteed to get second looks, questions, and compliments from your friends when you have this impressive set on display in your home!
Product Details [Read more]
Materials
Metal, Glass & Plastic
Including
Board & Pieces
Square Size
1.5″
Board Size
13.5″ x 13.5″
King Height
2.88″
This modern brass chess set offers one of the best value for money deals available in 2018. Its sleek, modern design sets it apart from other metal chess sets and gives it a feeling of luxury, with a less than luxurious price tag!
The chess pieces that come with this brass chess set have a sleek and modern design that make any office or living room look more elegant. The pieces are taller and thinner than common chess pieces, but they still maintain enough of the classic designs that they're easily recognizable. Any chess player would be able to pick up The Brass Art Deco Men Chess Set and play a match without too much difficulty, unlike with some sets where the pieces are virtually unrecognizable. The King piece is 4 inches tall, but still fits comfortably within the 1 ⅞ inch squares of the included chess board.
The chess board for this brass chess set is highly unique as well. It is actually made using a French technique called decoupage, which consists of cutting out images and pasting them to an object, then applying several coats of lacquer. That's exactly how this chess board was made, though you'd never know it just by looking at it.
The chess board started out as a plain, 18 ¼ inch square piece of wood, and then a piece of paper with the design of the chessboard was glued to it and several coats of lacquer were applied to protect the paper and give the board a smooth, shiny finish. The finishing process gives the board the illusion of depth, and the casual observer would never be able to tell that the chessboard was made from a sheet of paper rather than meticulously inlaid wood. This is how they can offer such an elegant looking brass chess set at such an inexpensive price.
Product Details [Read more]
Materials
Brass & Wood
Including
Board & Pieces
Square Size
1.7/8″
Board Size
18.25″ x 18.25″
King Height
4″
King Base
1.25″
This pewter chess set is one of the most impressive that we have ever reviewed so far as of 2018. With one look at the solid pewter chess set, it quickly became one of our favorites! Whereas the last metal chess set was inspired by the Renaissance era of history, this particular set takes inspiration from the middle ages, and in particular King Arthur's fictional kingdom. If you want to play a legendary chess game, why not play it with some of the most legendary heroes of all time- King Arthur's knights of the round table.
The pieces in this pewter chess set are all modelled after different Knights of the round table as presented in the legends of King Arthur. They are made of solid pewter with gold and bronze plating to distinguish one side from another. The result is striking. The solid metal lends these pieces a pleasing weight and heft as you move them decisively around the board. The King may only be 3.75 inches tall, but it is still a weighty piece that commands attention on the board.
Speaking of the board, the chessboard in this pewter chess set isn't taking a back seat to the pieces. It is every bit as ornate as the chessmen are! It is made of Elm Root and inlaid with gold detailing that ties it into the rest of the metal set. It has feet that raise the board 2.25 inches off the table and the board is a total of 22 inches square in size, with 2 inch squares. The ornate chessboard matches the theme of Arthurian Knights every bit as well as the pieces do!
Product Details [Read more]
Manufacturer
WorldWise Imports
Including
Board & Piece
Square Size
2″
Board Size
22″ x 22″
King Height
3.5″
Choosing the Right Metal or Pewter Chess Set
We understand that it can be difficult to settle on one metal chess set. That's why we've compiled this list of good options for you to choose from! It's much easier to pick from a list of vetted options than trying to choose blindly from thousands upon thousands of online listings, isn't it? Hopefully this list of our recommendations has narrowed down your choices, but here are a few things for you to keep in mind as you make your final decision:
Materials
Yes, these heavy chess sets are all made of metal, but if there is a specific type of metal you'd prefer to have, or a certain finish that you want, make sure to consider that in your final decision. Do you need to have a metal chess set that's plated with 24 karat gold and silver, or one that just looks like it is? The choice is yours.
Size
Some of the metal chess sets on this list are very large, with tall pieces that tower above the board. Is that ok with you, and do you have space for such a board? Or would you prefer something more compact, with squat pieces that you can easily store away? Consider the place where you'd like to put your metal chess set and how much room you have available there. You may want to take some measurements before you make your final decision.
Price
Finally, don't forget about the price tag. Some of these metal & pewter chess sets are so unique and gorgeous that it's easy to get carried away. Make sure you take a step back before buying and consider whether you can really afford it and if you're comfortable spending that much on a gold chess set. Yes, a good investment will get you a good chess set, but there are some good deals available out there as well.
Buy Online: The Fanciest Metal & Pewter Chess Sets – Shipping Worldwide
The Fanciest Metal & Pewter Chess Sets in 2018 (Page Summary):