Take your game to a new level and impress your friends with one of these awesome chess sets.
When buying a chess set, few people start off looking for one that is cool or even particularly unique. Most people are just trying to find a nice chess set that looks good and fits into their budget. Many shoppers don't even stop to think about what style of chess set they would really prefer to have, they just think that a chess set is a chess set.
Chess sets don't have to be boring
They couldn't be further from the truth! Yes, of course, there is one particular style of traditional chess set that automatically comes to mind. It's black and white or maybe brown and white, with pieces that closely follow the Staunton pattern that we've all come to accept as standard. But that is not the only kind of chess set out there. Your choices aren't limited to the color of your pieces and the material that they're made out of – there is a whole world of cool & unique chess sets for sale out there just waiting to be discovered!
For example, did you know that you could get a unique chess set that featured scale replicas of real surfboards? Or an ornate chess set that perfectly represented the inside of a courtroom? You can! And, these are only a few examples of the incredible diversity to be found in the world of custom chess sets. You can find a cool themed chess set to fit just about any hobby, lifestyle, or design aesthetic if you just know where to look.
Unique chess sets are available in all shapes and sizes
This list will compile reviews of some of the highest quality unique chess sets that encompass a range of different styles and hobbies. There's a little bit of everything, from modern, light up styles to Ancient Egyptian sets! You'll be surprised at the level of customization that is possible with a nice chess set.
The Coolest & Most Unique Chess Sets in 2018 (Page Summary):
The Coolest & Most Unique Chess Sets in 2018:
This beautiful chess set would make for the absolute perfect gift for someone who is graduating law school, passing the bar, or getting their first job as a lawyer. In fact, it started as a gift for the artist's father, who was a lawyer and chess lover himself who was frequently inundated with the same tired gifts, such as "World's Best Lawyer" mugs and things like that. The artist wanted to create a gift that lawyers would actually enjoy receiving, and thus, this custom chess set was born. As it turned out, The "Approach the Bench" Legal Chess Set filled a hole in the market that desperately needed to be filled, and soon, it was being featured in several different Law magazines!
Now, this cool legal chess set can adorn the office of your loved ones, whether they're in the legal field or not. The unique chessmen are made of cold cast bronze in different finishes and are modelled after different courtroom fixtures such as the judge, lady liberty, the attorneys, the bailiffs, a stack of books with a gavel on top of them, and a pair of jurors. The King piece is a staggering 5 inches tall, so you know that this cool legal chess set is sure to impress.
The chess board is also very unique. Rather than providing a completely flat and level playing surface, the starting positions of each side's army are raised to imitate the furniture of a courtroom. The front line is elevated slightly above the rest of the playing surface, the back line is elevated slightly above that, and the King and Queen pieces are elevated even higher still.
For the hunting lover or gun aficionado, this cool chess set would make a perfect gift. Each piece is handmade from fired 12-gauge black and white shotgun shells. That's definitely not something that you see every day! This awesome chess set would be the perfect addition to any hunting lodge, shooting range, or man cave.
Each of These Custom Shotgun Shell Chess Sets is made to order in Arizona by the artist himself, Walter Cerini. The chess pieces are cut to different heights and shapes, though all still maintain their shotgun shell appearance. It's amazing really, and a true testament to the artist that he was able to create so many unique piece designs out of identical shotgun shells. The King pieces are topped with a little golden or silver crown, Knights are carved into thin profiles of horses, and pawns are shaved down to a squat height. Other pieces feature a slanted top or painted markings on their ends.
The unique chess pieces are the true stars of the shotgun shell chess set, and the simple chess board just provides a backdrop for them. It is large, with a spacious playing area, but nothing to write home about. Its classic style features alternating black and white squares with a black border, all finished with a glossy seal.
This is a nice & unusual chess set that would make a great gift for anyone in your life who loves both chess and guns. They will certainly be surprised when they open the package – as they've likely never seen anything even remotely like the shotgun shell chess set before!
If you're looking for an opulent, beautiful chess set that none of your friends will have, look no further than The Gold and Silver Egyptian Chess Set. This set is truly a work of art. The Egyptian chess set is a highly unique chess set that is made up of gold and silver likenesses of ancient Egyptian gods, goddesses, pharaohs, and other important figures. But it's not only the figurines that impart the flavor of ancient Egypt on this decorative gold & silver chess set. The board itself is carved with hieroglyphics and adorned with a golden Sphinx on each of its four corners. Each of the squares on the playing surface is adorned with hieroglyphs and ancient Egyptian symbols.
Playing on this awesome board is almost like being transported back in time to a far away place on the banks of the Nile river. It's easy to imagine a set like this being used by King Tut, Cleopatra, and other famous ancient Egyptian rulers. Having an awesome chess set like The Egyptian Gold & Silver Set as part of your home or office is definitely a unique experience! Certainly not everyone can say that they have a unique chess set worthy of Kings, Queens, and Pharaohs back at home.
The chessboard is 22 inches square, with a grid size of 1⅝ inches. It includes a storage area for the chessmen on the interior of the board. To access this storage area, you just need to lift the top playing surface out of the base. Inside is a felted storage area with plenty of space for even the large 3 inch tall King pieces.
The Dave Reynolds surf chess set definitely qualifies as an awesome chess set. In fact, we think that it's one of the coolest chess sets available In 2018. If you've been looking for a cool and unique chess set for someone who loves surfing – one that's not too rigid or pretentious, then The Dave Reynolds Surf Chess Set just may be the perfect set for you! It definitely leaves behind the traditional style of a chess set in favor of something more flexible. Each one of these custom chess sets is handmade by the artist, Dave Reynolds.
One of the most amazing things about this unusual surf chess set is that many of the pieces are surfboards which Dave has constructed exactly to scale, out of the same woods that the full size surfboard would be made out of, like Hawaiian Koa, teak, walnut, and California Redwood. Talk about dedication to your craft! But would you expect anything less from someone with over 40 years of surfing experience who was also the Exhibits Director at the International Surfing Museum in Huntington Beach?
The set also comes with the 20×20 bamboo chessboard that Dave has custom designed to compliment this set. However, for an extra fee, you can have it instead with a custom, Wave-Shaped Chess Table. If you really want the full impact of the set, we recommend going with the wave table, because it really turns what was a relatively small conversation piece into something that says "wow" right as you walk into the room.
This tri-dimensional, futuristic chess set is boldly going where no pawn has gone before. Modelled after the unusual chess set seen in the Star Trek television series, these custom chess sets have several different levels of play scattered across 7 different platforms – 3 stationary levels and 4 moveable attack boards. Towering 14 inches high when fully assembled, it's definitely a statement piece, and you're bound to get tons of questions about The Star Trek Chess Set when you display it in your home, but trying to play a game of chess on this thing is certainly not for the faint of heart!
The chess pieces are beautiful – each one is precision cast with either a 24 karat gold or sterling silver coating. Some of them bear a likeness to the chess pieces we're familiar with, but many are unique. As you might imagine, playing a standard game of chess on this unusual chess board would be quite a challenge. Even setting it up would require some ingenuity! That's why The Star Trek Chess Set comes with an instructional booklet explaining the history of the game in the Star Trek universe, along with the rules of play.
This edition of cool chess sets was released by Franklin Mint in honor of the 50th Anniversary of Star Trek's original airing. It also coincided with the release of the film Star Trek Beyond, which was the 13th film in the Star Trek franchise. This unique chess set would make an excellent gift for any Star Trek fan, since it is quickly becoming a very valuable, highly sought after collector's item.
This unique chess set is just stunning, there's no other way to say it! If you're someone who pays attention to all the little details, this is the chess set for you. Its design is so intricate and detailed that you can hardly take it all in at once. The Roman Gladiators 3D Chess Set is a very cool chess set that would be perfect for collectors, history buffs, children, or even just as a decorative, awesome chess set to have in your home. It's certain to become a talking point with any guests who come over and see it.
It's hard to say which element of this unique chess set is really the star of the show. The chessboard is certainly a focal point, with its large, detailed Colosseum walls supporting a glass playing surface that seems to hover above the ruins. The full board is 16 x 16 x 4 ¾ inches, with a playing surface that's 13 ⅝ inches square with 1 ½ inch squares. However, upon closer inspection, you'll notice that each of the unique chess pieces is every bit as detailed as the 3D chess board.
The pieces are made from die cast metal complete with a silvered or bronzed finish. The King pieces, or in this case Emperors, stand 3 inches tall and have a base that's 1 ¼ inches in diameter. Each one is modelled after a person you might expect to find in the ancient Colosseum – gladiators, lions, spectators, Emperors, and their wives. With this set, you can play out a gladiatorial match with every chess game. Of course, you'll have to provide your own sound effects for the clanking of swords and cheering or jeering of the crowd!
Conclusion
The only limit is your own imagination!
We hope that you have enjoyed our reviews of these highly unique and one of a kind chess sets. By now you'll see that not every chess set needs to be stuffy and boring following the traditional style. We even know that chess sets don't even need to necessarily be designed for the game of chess as we know it, as in the case of the Star Trek chess set! With a little creativity and ingenuity, there's practically nothing that can't be turned into a cool and unique chess set.
This list proves once and for all that there is no one "right" type of chess set that is better than all the rest. As with everything else in life, there are different strokes for different folks. If you're not a fan of the plain black and white, Staunton pattern chess set, there's no reason to buy one! You CAN have a good looking chess set that's high quality and fits your design preferences.
With so many unique chess sets for sale in 2018, there's absolutely no reason to settle for the kind of chess set that you see everywhere if it doesn't suit your personal style. Other people may be content to settle for a less amazing chess set, but now that you've seen the possibilities, chances are good that you'll want to find the set that's just right for you, rather than buying someone else's idea of the perfect chess set.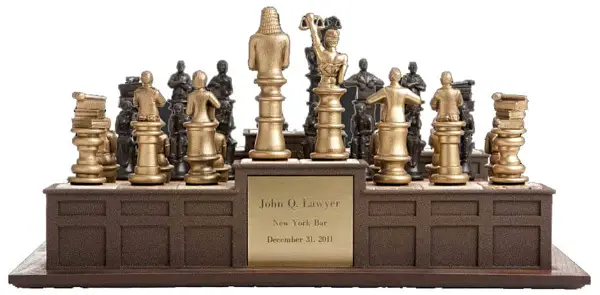 Buy a unique chess set that expresses your interests and personal style.
In 2018, almost every home and office contains a chess set or two, but few of these sets do anything to stand out from the crowd. It's a shame that they all look so much alike when there are so many different unique designs available out there now. When you own an unusual chess set, not only is it an excellent conversation starter, it also expresses a part of your personality. When someone sees your unique chess set they'll know not only that you enjoy a game of chess, but also that you're a free thinker and different from most other people. Depending on the theme of the chess set you choose, they might also be able to tell what hobbies you enjoy, like surfing, Ancient Egyptian history, Star Trek, or shooting guns, just to name a few. Having a cool & unique chess set allows you to express yourself in an unexpected way. The chess set that you choose really does say a lot about you as a person.
For people who want to express their unique personalities and interests in the way that they decorate their homes or offices and through the objects that they interact with daily, a custom chess set is really the only way to go. Trust us, it is worth it to dig a little deeper to find cool chess sets that is just right for you. Once you have found that one perfect chess set that really speaks to you, you will never want to go back to playing with anything else!
Buy Online: Cool & Unique Chess Sets for Sale – Shipping Worldwide
The Coolest & Most Unique Chess Sets in 2018 (Page Summary):