There's no room for trial and error with luxury chess sets, which is why we've picked out the best ones for you.
Luxury chess sets are something that many people want but few actually have the pleasure of buying. Because of this, there's a general lack of knowledge about which products are worth buying. Only exacerbating the problem is the fact that the few people who do buy luxury chess sets tend to be tight lipped about where they got them. These two factors combined make it nearly impossible to find out about reliable deluxe chess products through word of mouth alone. That's why we've put together a handy guide to help you sort the good from the bad. When looking for a luxury chess set, you'll want to consider the following factors:
Luxury Materials
The majority of the "luxury" in a chess set comes not from the workmanship or the design (though those things do contribute) but from the materials it's made of. You're going to want the finest woods, natural stones, and marble serving as the base for your chess set. This is not a place to skimp on, because it affects every aspect of the entire chess set!
Cost
If you're in the market for a high end chess set, it should come as no surprise to you that they can be quite expensive. While there are deals that can be found, a suspiciously low price tag should be a red flag to you. The finest materials come at a certain cost, and if the chess set is priced below that, it could be a sign that the materials are fake or not up to the quality standards you would expect.
Our Recommendations
To make sure you find a deluxe chess set that meets your quality standards, we've put together a short list of our recommended products. Each one has been thoroughly vetted by our team, so you can buy with confidence.
The Best Luxury Chess Sets in 2018 (Page Summary):
The Best Luxury Chess Sets in 2018:
This set is the single most luxurious, high end, fancy chess set that we've ever had the pleasure of reviewing. It has been described as being, "as close to perfection as can be achieved by human hands." That's quite the hype to live up to, but we found it to be true.
The House of Staunton is a trusted luxury chess brand that has been in the business of handcrafting top quality chess sets for nearly 30 years, and this set is no exception to that rule. If you're someone who prefers to have the absolute best in everything, The Golden Collector Series Luxury Chess Set is just the thing for you. Your friends will certainly be impressed when they play a game against you on this intricately carved chess set. Even if you don't play chess regularly, it makes a stunning decorative addition to any home or office.
This high quality set comes complete with pieces, board, and box, so you won't have to worry about anything being mismatched. The chessmen are carved from the highest grade boxwood and genuine ebony. The King towers over the board at a full 4.4 inches tall, with a wide 2 inch base to preserve stability. Each piece is individually hand carved and hand turned by master artisans, to exacting quality standards.
The board is also hand carved in the United States. It features large 2.25 inch squares to accommodate the wide bases of the chess pieces, and is made from Red Amboyna Burl and Bird's Eye Maple.
Product Details [Read more]
Manufacturer
The House of Staunton
Including
Board, Pieces & Box
Square Size
2.25" / 5.7 cm
Board Size
22.5″ x 22.5″
King Height
4.4" / 11.18 cm
As someone looking for a top of the line luxury chess set, you may think that themed chess sets aren't an option for you. While it's true that many themed chess sets aren't held to the rigorous quality standards that we expect for the deluxe chess sets featured on this list, there are a few that manage to make the grade. One such set is this historically themed 1863 Battle of Gettysburg Civil War Chess Set. If you're a history buff that enjoys the finer things in life, this just may be the perfect chess set for you. It also makes a great gift for such a person!
The chess pieces featured in this set are each modelled after various historical figures prominent during the Civil War. One side features figureheads of the Union army, such as Abraham Lincoln and General Ulysses S. Grant. The other side features Confederate leaders like Jefferson Davis and General Robert E. Lee. Each of the presidents stand at a striking 6 inches tall. The pieces are carved from fine oxo-teak wood and each one is handpainted in Italy with remarkable detail. Just one look at these pieces will show you the level of care and attention to detail went into crafting each one.
The chess board is handcrafted in the USA, actually not too far from where the Battle of Gettysburg actually took place. Isn't that neat? It is made from maple and walnut woods, which will stand up to years and years of regular use. Not one but two matching hardwood chess boxes are included to house each army of chessmen. Not only are the pieces too large for one chess box, but you can't have them fraternizing with the enemy!
Product Details [Read more]
Manufacturer
Italy & USA
Including
Board, Pieces & Box
Square Size
2 1/4″
Board Size
21″ x 21″
King Height
6″
As far as metal chess sets go, this one has got to be the most luxurious option out there. Some metal chess sets can end up looking cheap or poorly made, but not this one. The Large Metal Renaissance Chess Set is a high end chess set made with the finest materials, workmanship, and attention to detail. The set comes with chess pieces and chess board, but no chess box. It may be difficult to find an appropriate chess box that will accommodate the unique shape and size of these metal pieces, so if that's a must-have for you, you may not want to choose this particular set.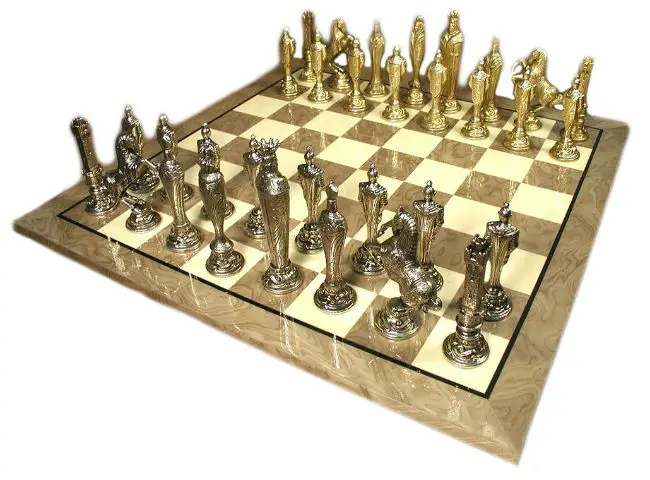 The chess pieces themselves are intricately detailed golden and silver statuettes that tower above the chess board with an imposing presence. The King pieces stand a remarkable 5 ½ inches tall! Each piece is modelled after a notable figure from the Renaissance era, and the chess set as a whole portrays a long period of history between the 12th and 17th centuries. This is a highly unique design for a chess set, and it certainly makes a statement.
The chess board included with this set is a glossy grey briar board that has a smooth as glass finish and compliments the pieces nicely. This fancy chess set is just the thing for an occasional game or as a decorative item in your home or office. It also makes a fantastic gift. We recommend it for coworkers or bosses who like to make a strong impression.
Product Details [Read more]
Manufacturer
Italfama
Including
Board & Pieces
Square Size
2″
Board Size
22″ x 22″
King Height
5.5″
True to its name, this high end chess set is definitely modern. To the untrained eye, it may even be unrecognizable as a chess set. You certainly won't find any horses or castles on this board, but rather smooth, tapering shapes with clean lines and a sleek finish. This is the perfect luxury chess set for someone with more contemporary tastes in decor.
The chess pieces in The Australia Diaxi Modern Chess Set are both very unique and very beautiful. They are crafted from brass with an antiqued finish on Black's army and nickel plating on White's army. It's amazing how the designer was able to make these pieces so unique and yet still have them be easily distinguished from each other. Each piece features a similar tapered design, but the variation in height and topper make it clear which piece is which.
The chess board also has a few unique features that really elevate this set to the next level of luxury. For one, it actually folds in half for easier storage, but it has a cleverly designed rotating lock and hinge system that becomes seamless and nearly invisible during play.
The chess box offers a welcome contrast to the cold metal of the chess pieces with its supple leather material. Inside, it has two compartments that provide ample storage space for all of the chess pieces.
Product Details [Read more]
Manufacturer
Chess House
Including
Board, Pieces & Box
King Height
3 3/8″
Board Size
16.5″ X 16.5″
The Best Sets Money Can Buy
In this list, we've offered our review of some of the fanciest and most expensive chess sets available in 2018. Though there are others that are more expensive, this list is a compilation of sets that are both currently for sale and worth every penny of their purchase price.
The chess sets we've hand selected to feature in this list are among the best that money can buy. They all conform to our rigorous quality standards for fancy chess sets and have price tags that match that level of quality. Of course, there are many chess sets available on the market today that are even more expensive than the ones we've listed here, but we've generally found that their quality is not on par with the asking price. We were very careful to only include high end chess sets on this list that were also a good value for the money. If you're spending that much on a chess set, we know that you're going to want to get your money's worth!
After looking at hundreds and hundreds of fancy and expensive chess sets, we've determined that the ones featured on this list are some of the most luxurious and valuable sets that can be bought. There is something here for everyone, no matter what your personal style. There are traditional chess sets, modern chess sets, and even a historically themed chess set or two. All of these products carry our seal of approval and have been thoroughly reviewed for quality and excellence of workmanship. You can buy with confidence knowing that we've already done the hard work of market research for you to come up with these recommendations. All that's left for you to do is select your favorite chess set and enjoy!
Buy Online: Variety of the Best Luxury Chess Sets – Shipping Worldwide
The Best Luxury Chess Sets in 2018 (Page Summary):
Older Luxury Chess Sets Reviews:
The Mammoth Ivory Collector Series Luxury Chess Set
This is a very unique chess set. Its rare and exotic materials are what make it the most expensive chess set on the market today, as well as a great conversation piece in your home or office. Its pieces are actually carved from the skeletons of ancient wooly mammoths- now referred to as mammoth ivory. Unlike elephant ivory, this type is still legal to harvest and sell, but it is extremely limited. Obviously, since mammoths are now extinct, there is only a finite amount of this mammoth ivory available, and all of it must be harvested by hand from the Siberian permafrost, as weather permits. If you can afford the hefty price tag, this is an incredible deluxe chess set that will be sure to impress your friends. You certainly won't need to worry about anyone else having the same one!
White's army of chessmen are carved from a literal piece of history- the 40,000 year old bones of wooly mammoths that used to roam the Earth during the last ice age. Black's army is carved from the same material and finished with a glossy black lacquer to provide contrast. There is another version of this set available that uses mammoth ivory for the white pieces and ebony wood for the black pieces, if you'd like to take home a piece of history at a slightly lower price.
The design of the fancy pieces is modeled after the original Staunton pattern chess set, a traditional style that makes for a beautiful chess set. They are sold without base pads to allow you to fully appreciate the beauty of the mammoth ivory. Because of this, and their irreplaceable nature, this set may be better put to use as a strictly decorative item rather than a set that sees a lot of regular use. The set comes with a chess box to keep the pieces safely stored, and you may add the chessboard of your choosing at a discounted price for the set.
Product Details [Read more]
Manufacturer
The House of Staunton
Materials
Mammoth Ivory
King Height
4.4" / 11.18 cm
King Base
2.0" / 5.0 cm