Fun & Exciting Places to Play Chess, or Maybe Not!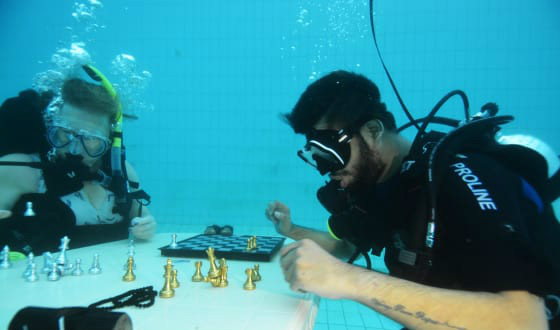 Chess is perhaps one of the longest existing board games, but also one of the most popular. People can get serious about the game. Many people like to enjoy the game in a perfectly quiet and peaceful environment, while others can tune out the noise and chaos surrounding them.
Chess games can be enjoyed in a wide variety of venues – at home, at work, school, or even in public. There are chess clubs that hold tournaments, and you can even play the game on the computer.
It's not surprising that some people will try to take chess to the next level, whether playing multi-level chess games, or taking their chess game on the road with them. With magnetic chess sets being around for a few decades now, you can play your game without having to worry about your chess pieces toppling over.
Have you ever brought your chess game with you when on a trip? We bet you can't think up some really crazy ways to play chess at home or on the road. Sure, you can play chess in bed, in the bathtub, in the car, or on an airplane, but check out some of these crazy places where people have been photographed playing their favorite board game.
1. Underwater Chess.
This sport combines diving with chess. It's usually played inside a pool, though an ocean or a lake can offer its challenges. It's simple enough to bring your chess set for play in a pool, no diving equipment even required. It's a bit more difficult when the game is played beneath a deep pool of water that will require some illumination.
If you ever visit Motril, Spain, you'll have your own opportunity for getting deeper into chess. Here you can suit up in full scuba gear and head to the bottom of the ocean. Down there you'll find a chess board set up on a small table. They'll even have two chairs and illumination set up so you can enjoy the game.
Two chess international masters, Hans Böhm and Robin Swinkels, had a game in the depths of Curacao's sea. There is even a recorded video where the stingrays and the fish float over the board.

2. On the International Space Station.
Playing chess with lots of space takes on a whole new meaning here. Greg Chamitoff played a game of chess during his service on the ISS. He was a Canadian astronaut and board game enthusiast. In 2008, when he orbited around the Earth, he'd play each round with grade-school students from around the planet.
While his time was kept busy on the space station, he did make the time to play one move per day with the earthbound students. He even got to play a third grade championship team.
3. The Eiffel Tower in Paris
While bringing the chess board to your trip to Paris France seems like a good idea, you'll never be able to outdo this guy. In 1921, at the top of Eiffel Tower, Monsieur Eduard Pape of Paris climbed to the top of the structure and placed his chess board in a precarious position, complete with chess pieces.
This vice president of the International Good Companion Chess Problem Club had climbed to a height of 800 feet in the air. The photo was published in the American Chess Bulletin but is still a popular one to see today. What makes his chess play so interesting is that he's not on the safe platform we know, but outside and between two metal columns of the structure.
Up there, he worked out a two-move chess puzzle that continues to challenge chess players into the future.
4. A Boxing Ring Match
These two guys had a game in the boxing ring, but instead of the usual punching match, it was a fight to the finish on the chess board. Apparently this is an event called Chess Boxing that combines two of the best combat practices – of mind and of the body.
This isn't something new either, it's been done since the 1970s. But it has experienced a resurgence in the 2000s. There are even regular chess boxing matches held if you want do a search online for one in your region.
Chess boxing has caught on in the countries of Germany, USA, Russia, Iceland, Netherlands, France, and India.
Chess boxing involves a round of boxing, then a round of chess. Either way, both are played in the middle of the ring. The only prerequisite to play are that both players must be thoroughly versed in boxing and chess, so they have a fair chance at winning.
A match is done by your usual boxing knockout, resignation, stoppage by the referee, and by checkmate or clock flagging for that chess aspect of the game. There can be a draw on the board and if the boxing judges declare that aspect the same.
Each player must do one chess move per round and are required to wear noise-blocking headphones to drown out the advice from the audience.
5. On a Roller Coaster Ride
It's one thing to focus on your chess game and another to focus when you're on a ride that has many dips and turns. Of course your magnetic chess set is going to help a bit.
It seems that this practice is becoming more popular on amusement park rides. However, many of these photos are fake, as the chess pieces have been glued down onto the boards.
The goal is to get a photograph of yourself supposedly playing the game while plunging down a sharp hill or curve on the roller coaster. Apparently this practice began with an online meme and others thought it would be a good idea.
If you do want to play a game of chess in a crazy location, ensure you grab your travel chess set, rather than playing with a fake board. It's your move.