FIDE and USCF are great for professional players, but where can amateurs turn? The ACO, of course!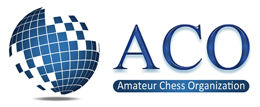 We've talked a lot about various different organizations and tournaments for professional chess players, but we rarely mention the ones for amateurs. This may make it seem like no one is looking out for the little guy, but that's simply not the case at all!
The majority of the world's chess players are amateurs, and there are plenty of chess clubs and organizations that cater to this type of player. The Amateur Chess Organization, or ACO is just one such entity.
About the Amateur Chess Organization
The Amateur Chess Organization is an independent organization whose members are amateur chess players with an ELO rating of about 2400 or lower. It's estimated that 99% of all chess players fall into this range, so they have no shortage of potential members!
The ACO was originally started as a way for amateur chess players to band together and represent their unique interests. Up until its foundation, there was no organization actively representing the interests of amateur chess players, even though the amateur players vastly outnumber the professional players. The ACO changed all this when it came into being.
The Amateur Chess Organization is a completely independent entity and is not in anyway associated with FIDE or the US Chess Federation. It considers itself to be a complimentary organization to those, but the interests of its membership are understandably quite different.
Amateur Chess Around the World
Just as there are grandmasters from all over the world, there are even more amateur chess players from even more places. For every 1 professional player that you see in the public eye, there are at least 99 amateur players back home! In every country that plays chess, there are amateur chess players, guaranteed.
The headquarters of the ACO are located in Stuttgart, Germany, and the ACO has official representation in 16 other countries. Organizers are working all the time to increase that number and expand the reach and influence of the ACO to all amateur chess players who are interested in joining.
Promoting Amateur Chess Globally
A large part of the work that the Amateur Chess Organization does on a day to day basis is simply spreading the joy of amateur chess to new people. One of their core messages is that you don't have to be in the top 1% of all players just to have fun with the game. You also don't need to be anywhere near a top tier player to reap the many mental and physical benefits of chess that have been scientifically proven to exist.
Some of the ways that the ACO promotes amateur chess is through its many youth and and scholastic chess programs, chess leagues without club structures, a new kind of chess community, and, most visibly, the annual World Amateur Chess Championship.
ACO World Amateur Chess Championship
The World Amateur Chess Championship is an annual tournament event held by the Amateur Chess Organization, and is probably their single most well known operation. Any chess player with a rating of 2400 or lower is welcome to compete in the tournament.
The location of the tournament changes every year, bouncing between the 16 countries with representation in the ACO and others. In recent years, the tournament has been held in Kos, Rhodes, Crete, and Dubai.
The 2019 World Amateur Chess Championship (WACC) will be held once again on the Greek island of Rhodes. It will take place over 9 days in late April, which is a lovely time to be in Greece. The tournament schedule leaves ample room for participants to explore the area in between competition. After all, the participants are amateur players and there is no prize money awarded, so you may as well get a nice vacation out of your trip in addition to the tournament experience!
The Amateur Chess Organization website has a Section dedicated to helping attendees book their travel and accommodations for the event. If you are coming from within Europe, many of the flights are actually quite affordable, so the tournament could feasibly be something you do just for the fun of it. If you're coming from somewhere farther away though, say, the United States or Australia, the cost could be prohibitive for an amateur competition. People in those countries may choose to wait to participate until the tournament is held in a location closer to home.
There are other activities happening during the tournament as well. You can not only play your own games and watch the games of others, but also be entertained by lectures and performances, and sometimes even surprise appearances from chess superstars like Judit Polgar, who appeared at one lunch during last year's tournament and surprised players!
ACO World Senior Chess Championship
In addition to the WACC, the Amateur Chess Organization also hosts the WSCC, a championship competition for senior amateur chess players. This is a relatively new event, with the inaugural tournament held only last year. Nevertheless, it was widely considered a success, so keep an eye out for another World Senior Chess Championship in October of next year if you're interested in participating.
Final Thoughts on the Amateur Chess Organization
All in all, the ACO is an admirable organization. We were surprised to learn that before its existence, 99% of chess players had nowhere to really "belong." The ACO changes all that by accepting all players with no minimum Elo score, only a maximum.
We think that the Amateur Chess Organization is doing great work in organizing professional-level events for amateur players. It is also great that they are so dedicated to spreading the game of chess to those who haven't discovered it yet.
The love of chess shouldn't be limited to the 1% who are fantastic at it, or even to those who are any good at all! No matter what your skill level, you can enjoy and benefit from chess, and the ACO is helping to get that message out.
Contact Information:
ACO website: Amateurchess.com
Email: [email protected]