We sat down with the artist behind Chess House's new line of custom painted chess sets to give you the inside scoop on this beautiful collection and its unique origin story!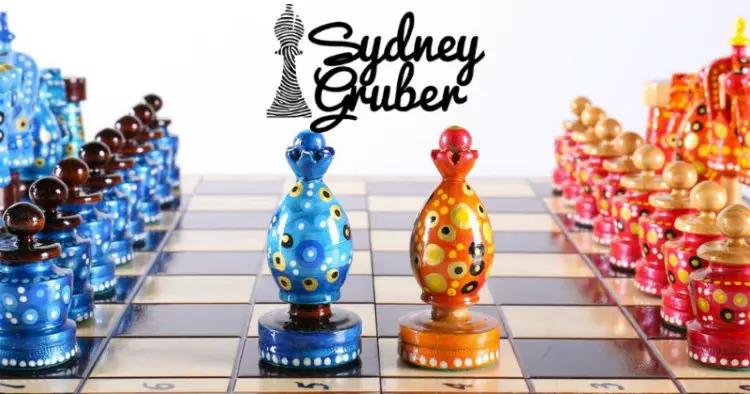 In case you hadn't noticed, Chess House has its own exclusive line of custom painted chess sets, each one a unique work of art. These sets are a far cry from the mass marketed, cookie-cutter chess sets for sale on other websites. In fact, each piece is lovingly hand painted by Alabama based artist Sydney Gruber.

Gruber identifies herself as an alchemy artist- someone who takes old or forgotten objects and rejuvenates them, spinning the proverbial straw into gold by making an unglamorous object lovable again. When she's not breathing new life into old objects or customizing colorful chess pieces, she specializes in creating abstract meditation paintings of all sizes. The philosophy behind all of her work is one of recognizing the underlying beauty of layers and unlocking the hidden potential of even the most unlikely objects. Gruber is currently the resident artist at the Kentuck Art Center and Museum located in Northport, Alabama.

We had the opportunity to chat with Gruber about her work with Chess House and the unlikely events that led to the collaboration. Keep reading below to see our full interview!

: I know you're a lifelong chess player – can you talk a little bit about how you first got acquainted with the game?
I began playing and studying chess at age five-ever since, it has played an integral role in my life. In hindsight, the game of chess offered me my first paradigm for life. There is an art to chess as the game requires you to develop a strategy between the moves and countermoves. The more time you have in the game means the more you begin to think creatively about your decisions rather than react to circumstance. Many of the game's principles continue to be employed in my current life philosophy – as well as in my business as a professional artist. Just like painting, the marriage of contemplation and action can yield a beautiful flow state. Formatting my mind to consider this perspective as a child absolutely had an influence in the way I relate to the world.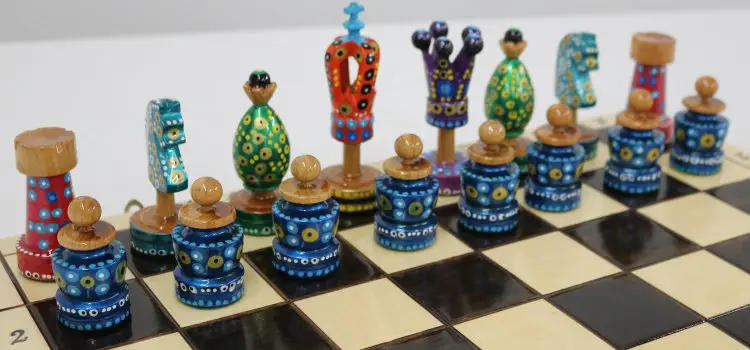 : What was it about chess sets that caught your eye as an artistic medium? How did you begin to recognize their potential as a work of art?
Beginning as an artisan refinishing and restoring furniture to create new life, I identified as a mixed media artist. Not unlike alchemy, I set my roots in recognizing the potential which became a signature practice of mine. Considering my appreciation for the game, painting custom uniforms on dozens of the chessmen from stunning sets was an obvious progression. Three years ago, I contacted Chess House to purchase 300 bishops to use as business cards, which received some attention as it was kind of an unusual order. The serendipitous introduction connected me with a community at Chess House unexpectedly although extraordinarily willing to help me manifest this idea of personalized chess sets. I could praise Chess House for their gusto in collaborating with me despite my eccentric entrance, but their beautiful and extensive selections speak for themselves.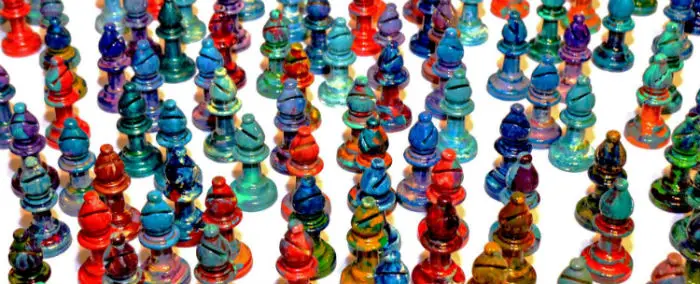 : Could you explain a bit more about your "Business Bishops?" Where did the idea come from, and why did you choose the Bishop, specifically?
Every day, I go to the studio to create art – I consider it a privilege to be able to reach into people's homes with my work. There is art and then there is the business of art – and the business of art requires you to be memorable. Simply put, my hand-painted business bishops helped me grow-in the way that if you were to plant hundreds of seeds on your land, you are going to enjoy a good harvest. Fortunate to be working in an arena where creative license is encouraged, I wanted to build a brand synonymous with my artistic identity – the bishop became my foundation. Despite its traditional appraisal in chess, the bishop possesses tremendous potential in its strength of endgame. In other words, if the bishops are still around at the end of the game, they have increased in value because they can cover more ground on the board. I travel all over to show my work at fine art festivals and establish relationships with new galleries; one of common variables is that people notice the bishop – they will ask about the bishop, they keep the bishop, and it all comes around.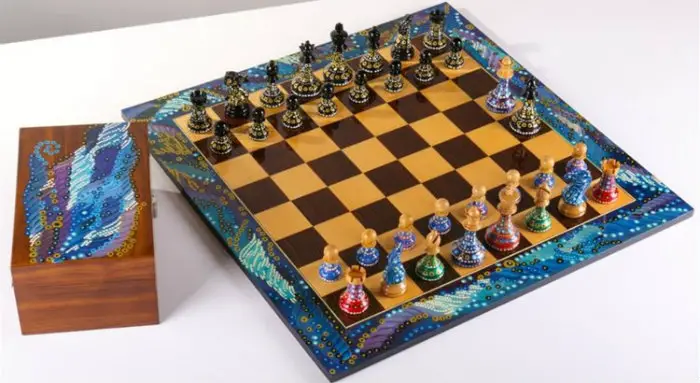 : Do you think of your customized chess sets more as functional pieces, decorative objects, or both? What do you imagine their "life" is like in the homes of their eventual owners?
With my chess set collection, there is a nice elevation of both function and art. I can say that I have played at least one game on every single chess set I have created – they are good to go. However, I love when my clients will write me with stories and pictures of where my creations end up living. One mother in Georgia purchased a board from me for her son and daughter-in-law in California. Another set lives with the family of a Dean at a University in Ohio. And I know one set is chilling in a lake house in Horseshoe Lake, Arkansas. All of my art placed and enjoyed in homes become little extensions of me, and it's nice to be fractured in such a lovely and personal way. Whether people have just now discovered my work or have followed me for a while, I am grateful to be working as an artist and genuinely appreciate the support in bringing about this modern art renaissance happening right now.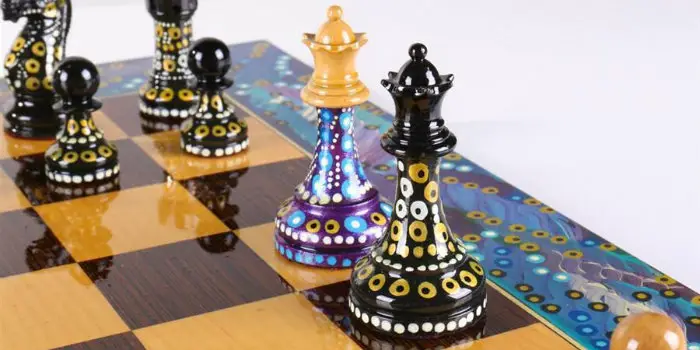 It seems like the collaboration between Chess House and artist Sydney Gruber is a natural fit. It was a stroke of luck that they were able to find each other and mutually recognize an opportunity to create a unique line of artwork. The rest of us benefit from this serendipitous meeting by gaining access to beautiful, hand painted chess sets that may otherwise not exist!
Gruber's original work can be found on her website, sydneygruber.com, or by checking out her line of chess sets on Chess House website.