Garry Kasparov MasterClass Review: Is It Worth It?
Intro
As you're looking for new ways to improve your chess ability, Garry Kasparov's MasterClass might have popped up. It's a very common course, especially in the chess community. As a chess player, you are probably wondering if it's worth it.
In this review, we'll take a look at Garry Kasparov's MasterClass and let you know if it's worth it. We'll talk about all the specifics when it comes to this chess education course.
Who is Garry Kasparov?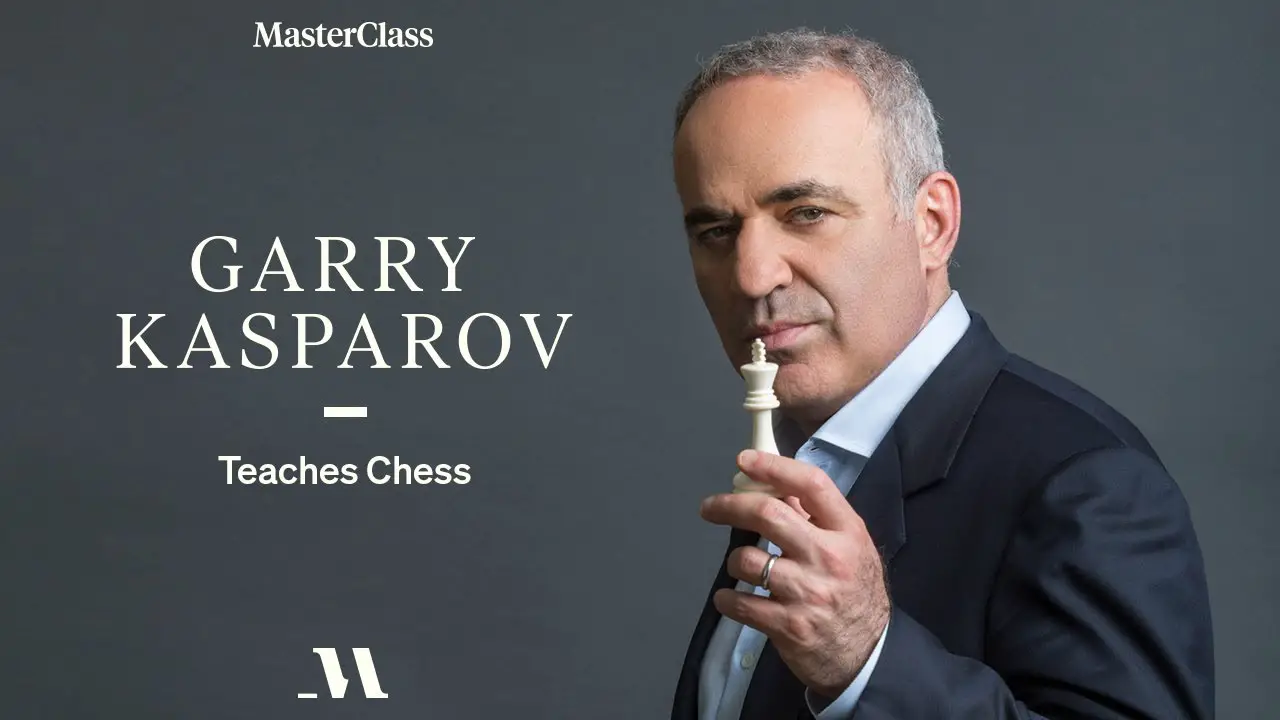 Even people who don't know a lot about chess tend to recognize Garry Kasparov's name. Kasparov is, without question, one of the best chess players of all time.
In 1999, Kasparov achieved a peak rating of 2851. That record wasn't broken until 2013 by Magnus Carlsen (who still holds the record), bumping Kasparov down to #2 where he stands today.
He also holds the record for the youngest ever World Chess Champion, an achievement he earned at 22 years old. From '84 to '00, he was the reigning chess champion of the world, the second-longest in chess history.
The bottom line is simple: Garry Kasparov is an incredible mind in chess with a level of talent.
What is a MasterClass
MasterClass is an online platform that helps you learn a new skill. It started out by primarily offering lecture notes for students but grew into something much larger.
Now, you'll find classes from industry experts from multiple different sectors. People like director and producer Judd Apatow, DJ and producer Deadmau5, magicians Penn & Teller, and basketball legend Stephen Curry.
The idea is that you can pick your instructor and sign up for their classes. In most cases, they're personally talking to a camera (you) and revealing insight into their craft.
The concept makes a lot of sense. You find someone that you admire, then you learn how they do the craft that you respect.
The payment structure is in the form of a subscription. You pay MasterClass $15 per month or $180 per year for unlimited access to the platform.
In other words, you don't have to pay a ton of money for each individual course.
It shouldn't be a surprise that Garry Kasparov also offers a course on MasterClass.
Introducing Garry Kasparov's MasterClass
In this MasterClass, six-time World Champion Garry Kasparov reviews some of the chess strategies that brought him to his peak performance.
Altogether, it's a 29-part lesson which adds up to about 7 hours and 20 minutes of chess strategies.
Of those, three videos are dedicated to openings and three are dedicated to endgames. There are some theory-based videos as well as reviews of major games in history.
This MasterClass seems to be built with a little bit of everything.
Understanding the Importance of Chess Education
What's the point of even taking a chess education course? It helps your game.
Just like anything else in life, the more you understand and practice a skill, the better at it you become.
In the case of chess, there's a nearly limitless amount of information you can learn. At the same time, a little bit of extra knowledge can determine whether or not you defeat your opponent. Knowing how to defend against a Sicilian opening is required if you want to get to late game and show your abilities there.
Studying chess is a surefire way to improve your skills and eventually your chess rating.
This is why chess education is so important. Taking a MasterClass that revolves around learning chess is a surefire way to become better at the sport and improve your rating.
Which Skill Level Is the Class For?
It's tough for us to determine exactly which skill level will benefit the most from this series of classes.
Kasparov dives into very fundamental ideas like openings and end games, but then he covers them with some terminology and ideas that only advanced players can understand.
At the same time, some of the videos are game reviews in which Kasparov reviews high-level plays with entry-level terminology.
It seems that his course offers a benefit for most skill levels, but we'd suggest that true beginners stay away from this course. Preferably, your skill level would be beyond a true beginner.
With that said, every player has something to gain from the course.
Is it Worth the Money?
This course is undoubtedly worth the money, especially for someone who wants to learn. Since the money goes through MasterClass and unlocks other courses, the value you get back is all up to you.
You could fly through the curriculum within a month easily, meaning that you get the full course taught by Kasparov for $15 in subscription costs.
Alternatively, you can pay for the full year and take a look at other MasterClass courses in fields that you're curious about. To reiterate, you're not paying just for Kasparov's course, you're paying for access to the whole platform.
Is Garry Kasparov's MasterClass Entertaining?
A common problem with chess courses is that the instructor tends to droll on and make the lectures very boring.
We personally think that Garry Kasparov's MasterClass breaks this mold. Someone who doesn't care about chess will find it boring, but fellow chess-lovers will be thoroughly entertained.
It also helps that each video varies dramatically when it comes to the content. As we mentioned, one video is all about openings while another video includes a full game review.
With such versatile content, the course is easily very entertaining.
The Kasparov Difference
You might be wondering what's so special about this chess course. There are hundreds of different chess players who offer courses, so why choose this one? It's all about the difference that Kasparov makes.
For one, he has an unparalleled understanding of the sport. He knows levels of chess that we simply don't — he can see more on a board than we can.
In addition, he has a huge repertoire of games he played which are stored in his brain. He has professionally played over 2,500 games. As he teaches different techniques, he will often set up positions from some of his previous games.
Plus, Kasparov spends time to thoroughly explain what he's doing. He might set up a position and ask the viewer to consider what the next move should be. From there, he'll look at every logical move and the result of the move before showing the best move.
This is something you won't get from an everyday chess player's course.
The Final Verdict
Our final verdict is that this course is worth it, as long as you're not an absolute beginner at chess. There is great insight, a lot of helpful information, and it's led by a highly knowledgeable and respected authority in chess.
Conclusion
Garry Kasparov put together a very impressive course on MasterClass. If you're looking to elevate your chess game, this would be a great course to consider. There's something for everybody when it comes to the course. If this course interests you, you can use our affiliate link here: Gary Kasparovs MasterClass